»

Recipes

»

French
Pissaladiere Recipe
Pissaladiere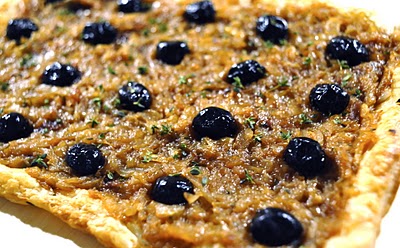 Ingredients
Pastry

1

(For A 9 Inch One Crust Pie)

Egg yolk

1

Oil

6 Tablespoon

Tomatoes

6 Large

, peeled, seeded and chopped

Tomato puree

2 Tablespoon

Black pepper

1⁄8 Teaspoon

Parmesan cheese

2 Tablespoon

, grated

Onions

3 Large

, peeled

Rosemary sprig/Tarragon/ 1/4 teaspoon dried rosemary

2

Anchovy fillets

1 Can (10 oz)

Black olives

4
Nutrition Facts
Serving size
Calories 491 Calories from Fat 292
% Daily Value*
Total Fat 33 g50.7%
Saturated Fat 5.2 g26.1%
Trans Fat 0 g
Cholesterol 66.4 mg
Sodium 1323.8 mg55.2%
Total Carbohydrates 39 g13.2%
Dietary Fiber 8.1 g32.3%
Sugars 20 g
Protein 13 g26.4%
Vitamin A 48.6% Vitamin C 88.4%
Calcium 23% Iron 9.1%
*Based on a 2000 Calorie diet
Directions
GETTING READY
1) Preheat oven to temperature of 450 degrees.
2) With the pastry, line a 9-inch pie plate and keep it aside to chill.

MAKING
3) In a sauté pan ,heat 4 tablespoons of oil add tomato puree and tomatoes and cook over low flame, occasionally stirring, till the excess moisture has evaporated completely. 4) Add a pinch of salt, a pinch of sugar and pepper.
5) In a separate pan, sauté the onions in the remaining oil till they are golden brown.
6) Brush the bottom with a beaten egg yolk. Bake in preheated oven for long enough to just set the crust, which generally takes about 15 minutes, and remove from the oven.
7) Bring the heat of the oven down to 375 degrees.
8) Sprinkle the pie shell's bottom with cheese and add the rosemary and onion. Pour the tomato mixture all over.
9) On top of the concoction, arrange the anchovies in a lattice pattern and place an olive in the center of each square. Brush with oil lightly and bake in oven for about 30 minutes.

SERVING
10) Serve hot.