»

Recipes

»

Bar

»

Pineapple Scotch Bars
Pineapple Scotch Bars Recipe
If you are yearning for those mouth-watering bites, then try out these simple and delicious Pineapple Scotch Bars. Filled with the goodness of pineapple and oats, this is a treat for all!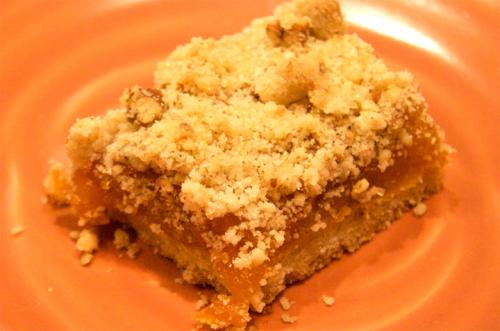 Ingredients
Crushed pineapple - 1 1/2 cups, lightly drained

Apricot jam

3 Tablespoon

Sugar

1/4 Cup (16 tbs)

Cornstarch

1 1/2 Tablespoon

Flour

1 1/2 Cup (16 tbs)

, sifted

Soda

1/2 Teaspoon

Salt

1/2 Teaspoon

Quick-cooking oats - 11/2 cups

Brown sugar

1 Cup (16 tbs)

, firmly packed

Shortening

3/4 Cup (16 tbs)
Directions
MAKING
1) In the saucepan, combine the pineapple and jam.
2) Blend together sugar and cornstarch and stir into the pineapple mix.
3) Gently cook, stirring constantly, till the mix is thick and clear.
4) Refrigerate.
5) In a bowl, sift together the flour, soda, and salt.
6) Add in the oats and brown sugar and mix.
7) Cut in the shortening till the mix resembles the consistency of breadcrumbs.
8) Pat half this mix into a 9-inch-square pan.
9) Add the pineapple filling over and spread evenly.
10) Press the remaining crumb mix over the top.
11) Place in the oven at 375° F and bake for 35 to 40 minutes.

SERVING
12) Serve as a healthy snack.