»

Recipes

»

Ball

»

Pineapple Cheese Ball
Pineapple Cheese Ball Recipe
Pineapple Cheese Ball are just the thing to satiate your hunger pangs in between meals. I bet, once you taste this Pineapple Cheese Ball, you will always crave for it!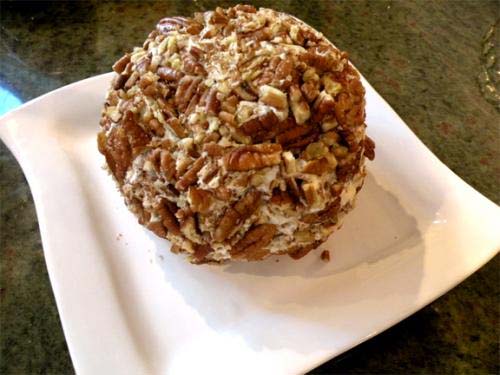 Ingredients
Cream cheese

16 Ounce

(At Room Temperature)

Canned crushed pineapple

9 Ounce

, drained (1 Can)

Chopped pecans

2 Cup (32 tbs)

Finely chopped green pepper

1⁄4 Cup (4 tbs)

Finely chopped onion

2 Tablespoon

Seasoned salt

1 Tablespoon

Canned pineapple slices

4

(For Garnish)

Maraschino cherries

4

(For Garnish)

Parsley sprigs

4

(For Garnish)
Nutrition Facts
Serving size: Complete recipe
Calories 3737 Calories from Fat 2740
% Daily Value*
Total Fat 320 g491.7%
Saturated Fat 101.6 g508.2%
Trans Fat 0 g
Cholesterol 498.9 mg
Sodium 6172.4 mg257.2%
Total Carbohydrates 204 g68%
Dietary Fiber 30.6 g122.2%
Sugars 162 g
Protein 50 g99.2%
Vitamin A 134.3% Vitamin C 254.8%
Calcium 63.5% Iron 46.6%
*Based on a 2000 Calorie diet
Directions
Beat cheese until smooth - add pineapple, 1 cup nuts, green pepper and onion, and salt.
Shape into a ball and roll in remaining cup of nuts.
Wrap in foil or saran wrap and refrigerate overnight.