»

Recipes

»

Cheese

»

Pineapple Cheese Ball
Pineapple Cheese Ball Recipe
Pineapple Cheese Ball are just the thing to satiate your hunger pangs in between meals. I bet, once you taste this Pineapple Cheese Ball, you will always crave for it!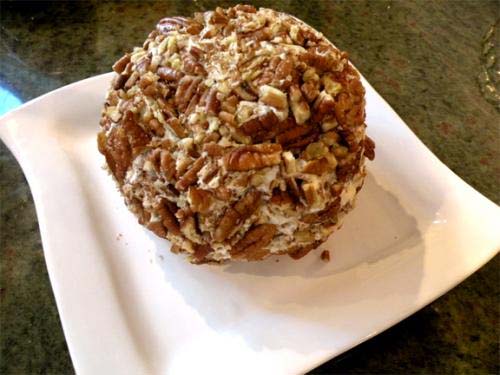 Ingredients
Cream cheese package

2

Crushed pineapple

1 Can (10oz)

, drained

Pecans

2 Cup (16 tbs)

, chopped

Green pepper

1/4 Cup (16 tbs)

, finely chopped

Onion

2 Tablespoon

, finley chopped

Seasoned salt

1 Tablespoon

Canned pineapple slices, maraschino cherries and parsley sprigs for garnish
Directions
Beat cheese until smooth - add pineapple, 1 cup nuts, green pepper and onion, and salt.
Shape into a ball and roll in remaining cup of nuts.
Wrap in foil or saran wrap and refrigerate overnight.