»

Recipes

»

Chutney

»

Pineapple And Mango Chutney
Pineapple and Mango Chutney Recipe
No Indian meal would be complete without chutney - a sweet-savoury mix of fruit or vegetables and spices. Served in small quantities as a pleasing accompaniment to the main dish, it adds sharp, contrasting aromas and flavours. This pineapple and mango chutney can be prepared in advance, since it keeps very well in the fridge.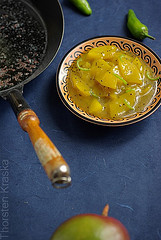 Ingredients
Mango

1

Lemon

1

Onion

1

Ginger/1/2 teaspoon ground ginger)

1 Small

Tinned pineapple

6

(150g / 5 1/2oz, with its syrup, 100ml / 3 1/2fl oz)

Brown sugar

50 Gram

(2 oz)

White wine vinegar

1 Tablespoon

Turmeric

1⁄4 Teaspoon

Chilli powder

1⁄4 Teaspoon

Cinnamon stick

1

(1 in long)

Garlic

1 Clove (5 gm)

Salt

To Taste
Nutrition Facts
Serving size
Calories 195 Calories from Fat 3
% Daily Value*
Total Fat 0.39 g0.6%
Saturated Fat 0.1 g0.49%
Trans Fat 0 g
Cholesterol 0 mg
Sodium 106.9 mg4.5%
Total Carbohydrates 49 g16.5%
Dietary Fiber 2.9 g11.4%
Sugars 41.8 g
Protein 1 g2.3%
Vitamin A 9.6% Vitamin C 48%
Calcium 3.3% Iron 3.1%
*Based on a 2000 Calorie diet
Directions
Peel the mango and remove the flesh from around the flat stone, then dice it. Peel the onion and chop it finely. Peel the ginger, then grate it. Squeeze the juice from the lemon.

Pour the sugar into a large saucepan, adding the lemon juice and the vinegar. Warm them over a very low heat until the sugar is completely dissolved.

Stir in the grated ginger, the chopped onion, the clove, cinnamon stick, chilli, turmeric and salt, mixing well.

Drain the pineapple slices, setting aside 100ml of the juice. Cut the slices into small pieces and stir them and the juice into the pan. Add the diced mango. Turn the heat up and bring to the boil, then cover and simmer over a low heat for 45 minutes.

Put the chutney into a dish and leave it to cool in the refrigerator for at least 2 hours before serving.

Serve this chutney as an accompaiment to a lamb or chicken curry, with white rice.