»

Recipes

»

Cake
Pineapple Upside Down Cake Recipe
This Pineapple Upside Down Cake tastes incredible ! Try this fruit cake for your next dessert ! Tell me if you've liked this Pineapple Upside Down Cake.
Pineapple Upside Down Cake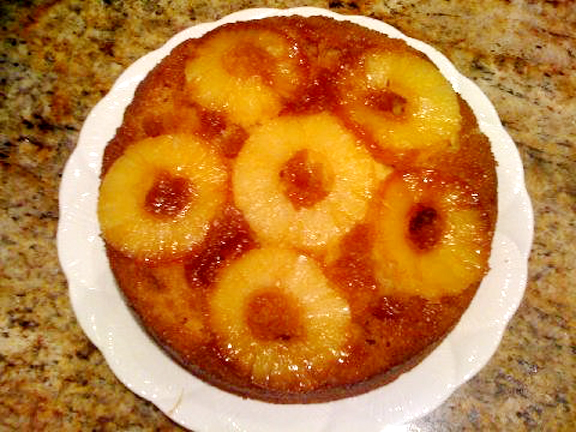 Ingredients
Butter

2 Tablespoon

Canned crushed pineapple

8 Ounce

(1 Can)

Firmly packed brown sugar

1⁄2 Cup (8 tbs)

Maraschino cherries

6

Yellow cake mix

9 Ounce

(1 Package)
Nutrition Facts
Serving size: Complete recipe
Calories 1907 Calories from Fat 422
% Daily Value*
Total Fat 48 g73.9%
Saturated Fat 24.3 g121.5%
Trans Fat 0 g
Cholesterol 64.5 mg
Sodium 1634 mg68.1%
Total Carbohydrates 361 g120.3%
Dietary Fiber 9.1 g36.6%
Sugars 261.8 g
Protein 13 g25.5%
Vitamin A 15.3% Vitamin C
Calcium 11.7% Iron 5.2%
*Based on a 2000 Calorie diet
Directions
1. Heat butter 30 seconds in an 8-inch round glass baking dish.
2. Drain pineapple, reserving juice.
3. Blend together butter, brown sugar, and drained pineapple; spread evenly in bottom of pan. Arrange maraschino cherries in bottom of pan.
4. Prepare cake mix as directed on package, substituting the reserved pineapple juice for water. Pour batter evenly over pineapple mixture.
5. Cook 5 to 7 minutes, rotating dish one-quarter turn halfway through cooking time. Rest 5 minutes until cake pulls away from sides of pan.
6. Invert onto serving dish.