»

Recipes

»

Greek

»

Pilaf Greek Style
Pilaf Greek Style Recipe
This Pilaf is an irresistible main course meal recipe. Enjoy this mouth-watering Pilaf with your loved ones in the coming weekend party!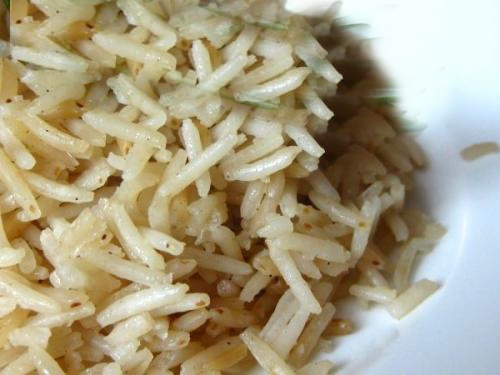 Ingredients
Butter

1⁄2 Cup (8 tbs)

Raw long grain rice

2 Cup (32 tbs)

Beef broth/Chicken broth

1 Quart

(Use Hot)

Freshly ground white pepper

To Taste

Salt

To Taste
Nutrition Facts
Serving size: Complete recipe
Calories 2226 Calories from Fat 841
% Daily Value*
Total Fat 96 g147.4%
Saturated Fat 59.5 g297.5%
Trans Fat 0 g
Cholesterol 241.9 mg
Sodium 3502 mg145.9%
Total Carbohydrates 297 g99%
Dietary Fiber 5.1 g20.3%
Sugars 0.5 g
Protein 38 g76.4%
Vitamin A 56.2% Vitamin C 0.35%
Calcium 19% Iron 26.3%
*Based on a 2000 Calorie diet
Directions
1. Melt the butter in a heavy skillet and saute the rice, stirring, for five minutes, or until browned.
2. Add the broth, salt and pepper. Cover the pan with a cloth, then with a lid and simmer, without stirring, until the rice has absorbed all the liquid.