»

Recipes

»

Beet

»

Pickled Beets
Pickled Beets Recipe
Spicy Pickled Beets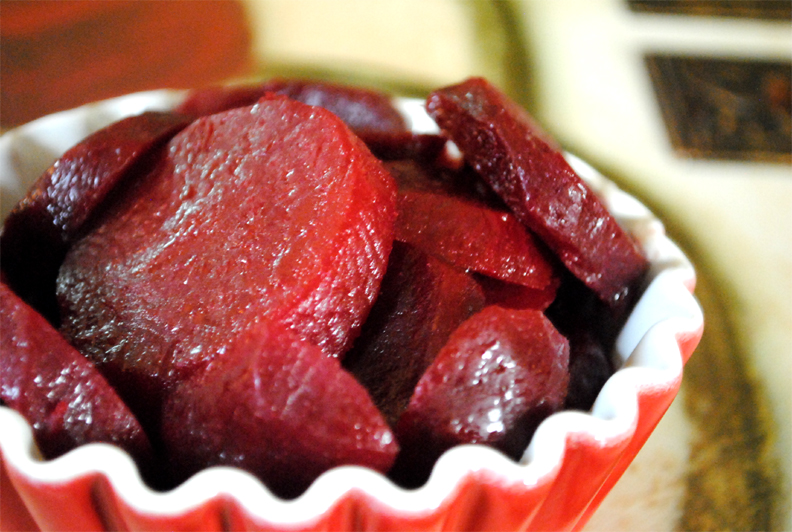 Ingredients
Beets

2 Pound

White wine vinegar

1 Cup (16 tbs)

Sugar

1⁄2 Cup (8 tbs)

Salt

1 Teaspoon

Cloves

3

Black peppercorns

4

Bay leaf

1 Small

Onions

2 Medium

, thinly sliced (Peeled)
Nutrition Facts
Serving size: Complete recipe
Calories 995 Calories from Fat 17
% Daily Value*
Total Fat 2 g3.1%
Saturated Fat 0.44 g2.2%
Trans Fat 0 g
Cholesterol 0 mg
Sodium 2687 mg112%
Total Carbohydrates 227 g75.8%
Dietary Fiber 33 g132%
Sugars 178.7 g
Protein 20 g39%
Vitamin A 7.4% Vitamin C 128.9%
Calcium 26.7% Iron 54.1%
*Based on a 2000 Calorie diet
Directions
GETTING READY
1. Drain beets, reserving 1-1/4 cups liquid.
2. Place beets in 1-1/2-to 2-quart jar.

MAKING
3. In medium saucepan, bring to boiling combining vinegar, sugar, salt, cloves, peppercorns, bay leaf and reserved liquid.
4. Reduce heat and simmer, uncovered, 5 minutes.
5. Add onion slices to jar.
6. Pour hot liquid over beets and onions.
7. Refrigerate, covered for 6 to 7 hours.

SERVING
8. Serve with garnish or use in dishes as desired.