»

Recipes

»

Pepper

»

Pickled Peppers
Pickled Peppers Recipe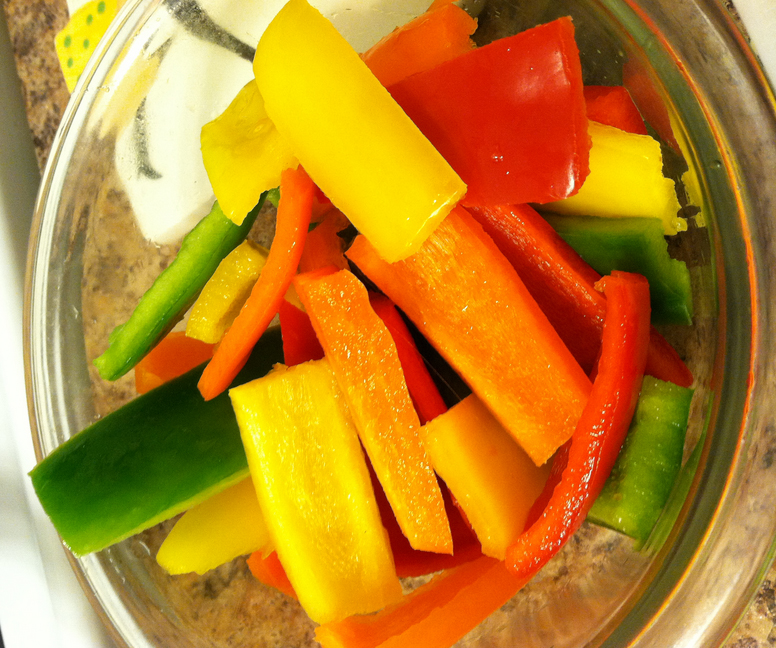 Ingredients
Long pepper

4 Quart

(red, green or yellow, Hungarian, Banana or other varieties)

Canning salt

1 1⁄2 Cup (24 tbs)

Water

4 Quart

Sugar

1⁄4 Cup (4 tbs)

Prepared horseradish

2 Tablespoon

Garlic

2 Clove (10 gm)

Vinegar

10 Cup (160 tbs)

Water

2 Cup (32 tbs)
Nutrition Facts
Serving size: Complete recipe
Calories 2490 Calories from Fat 308
% Daily Value*
Total Fat 61 g94.5%
Saturated Fat 0.04 g0.18%
Trans Fat 0 g
Cholesterol 0 mg
Sodium 14033 mg584.7%
Total Carbohydrates 180 g60%
Dietary Fiber 1.2 g4.8%
Sugars 175.8 g
Protein 0.99 g2%
Vitamin A 0% Vitamin C 527.5%
Calcium 18.3% Iron 5.9%
*Based on a 2000 Calorie diet
Directions
Cut two small slits in each pepper.
Dissolve salt in 4 quarts water.
Pour over peppers and let stand 12 to 18 hours in a cool place.
Drain; rinse and drain thoroughly.
Combine remaining ingredients in a large sauce pot.
Simmer 15 minutes.
Remove garlic.
Pack peppers into hot jars, leaving 1/4-inch head space.
Bring pickling liquid to a boil.
Pour hot liquid over peppers, leaving 1/4-inch head space.
Remove air bubbles.
Adjust caps.
Process half pints and pints 10 minutes in boiling water bath.

Anonymous says :
how do you keep peppers crunchy when canning
Posted on:
24 July 2011 - 11:26am

jim t. says :
forget the blistering,i soaked the peppers in pickeling lime for 24 hours.then washed and soaked them in cold water a couple of times.they turned out great,nice and crunchy just like fresh.email me and i`ll gladly send you the recipe.jat54c@hotmail.com
Posted on:
4 August 2011 - 2:31am

Adding a bit of Calcium Chloride, or otherwise termed in cooking as pickle crisp, may help. Alum also does the same function, if I am not wrong. However, you may have to do a research on the quantity to add. Also, refrigerated pickles rather than canned version, make much crisper pickled peppers.
Posted on:
24 July 2011 - 8:53pm