»

Recipes

»

American

»

Coleslaw

»

Pickled Coleslaw
Pickled Coleslaw Recipe
Pickled Coleslaw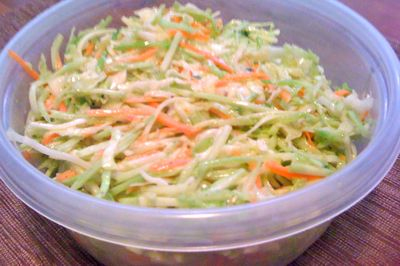 Summary
Preparation Time
15 Min
Cooking Time
30 Min
Ready In
45 Min
Difficulty Level
Medium
Ingredients
Vegetable oil

1 Cup (16 tbs)

Cider vinegar

1 Cup (16 tbs)

Sugar

1 1⁄4 Cup (20 tbs)

Celery seeds

2 Tablespoon

Cabbage

3 Pound

, chopped

Green pepper

1

, chopped

White onions

2

, finely chopped

Salt

1 Tablespoon

Freshly ground pepper

1⁄2 Teaspoon
Nutrition Facts
Serving size: Complete recipe
Calories 3566 Calories from Fat 2025
% Daily Value*
Total Fat 230 g353.2%
Saturated Fat 29.9 g149.7%
Trans Fat 0 g
Cholesterol 0 mg
Sodium 6135.3 mg255.6%
Total Carbohydrates 378 g125.9%
Dietary Fiber 45.4 g181.7%
Sugars 309.7 g
Protein 27 g54.8%
Vitamin A 38.3% Vitamin C 1074.4%
Calcium 118.6% Iron 123.5%
*Based on a 2000 Calorie diet
Directions
In a saucepan heat the oil, vinegar, sugar and celery seeds until the mixture boils and the sugar dissolves.
Simmer for a few minutes.
Combine the vegetables in a large bowl.
Season with salt and pepper.
Pour the hot dressing over the vegetables.
Let stand for at least 2 hours before serving.