»

Recipes

»

American

»

Coleslaw

»

Pickled Coleslaw
Pickled Coleslaw Recipe
Pickled Coleslaw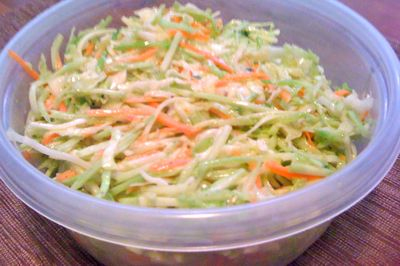 Ingredients
1 very large cabbage, shredded fine

Onions

2 Large

, thinly sliced

Sugar

3/4 Cup (16 tbs)

Salt

1 Teaspoon

White vinegar

1 Cup (16 tbs)

Prepared mustard

2 Teaspoon

Sugar

1/4 Cup (16 tbs)

Celery seed

3 Teaspoon

Salad oil

3/4 Cup (16 tbs)
Directions
Toss cabbage, onions, 3/4 cup sugar and salt together.
Let stand while making dressing.
Mix vinegar, mustard, 1/4 cup sugar and celery seed together in a saucepan and bring to a boil.
Add salad oil and when bubbling pour over the cabbage mixture.
Stir and chill overnight.
Will keep refrigerated for several weeks.
Prepare some weeknight or on a weekend.
Serve in place of salad with casserole dishes, fish and chips, or hamburgers.