»

Recipes

»

Cake

»

Petit Fours
Petit Fours Recipe
A reminder of the bygone era, Petits Fours are best served for an afternoon tea or high tea. It is best accompanied by a hot cup of Darjeeling or Earl Grey tea!! Enjoy!!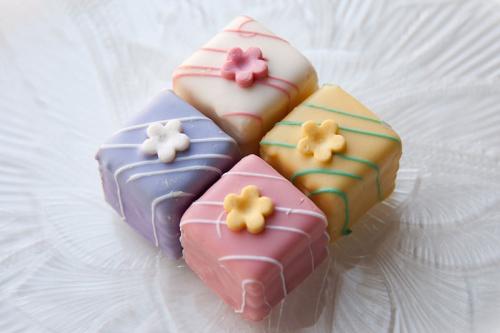 Summary
Preparation Time
5 Min
Cooking Time
2 Hr 5 Min
Ready In
2 Hr 10 Min
Difficulty Level
Easy
Health Index
Average
Cuisine
French
Ingredients
Cake flour

2 1/4 Cup (16 tbs)

, sifted

Double-acting baking powder - 3 teaspoons

Salt

1/2 Teaspoon

Sugar

1 1/4 Cup (16 tbs)

Heavy cream

1 1/4 Cup (16 tbs)

Egg whites

4
Directions
Getting Ready
1. Preheat the oven to 350°F.
2. Greased and lightly flour a 13x9x2 inch cake tin.

Making
3. Sift together cake flour, baking powder, salt, and sugar.
4. Whip cream until thick.
5. Add sifted dry ingredients, egg whites and vanilla.
6. Beat for 2 minutes in an electric mixer or 300 strokes by
hand.
7. Pour into pan.
8. Bake for 35 to 50 minutes.
9. Cool 10 to 15 minutes; turn out on a cake rack.
10. Cool thoroughly.
11. Cut with fancy cutters or a sharp knife into small squares,
diamonds or any desired shape.
12. Frost with petit fours frosting.
13. Decorate with ornamental frosting.

Serving
Once the frosting has set, serve with a steaming cup of tea.