»

Recipes

»

French

»

Brioche

»

Petits Brioches
Petits Brioches Recipe
Petits brioches are a yummy treat. Brioches are of different shapes. Petits brioche is one of them. This brioche is shaped very interestingly- a small ball placed on a large knot. Petits brioche can be served as it is or may be filled with filling of your choice or dust with powdered sugar and eat.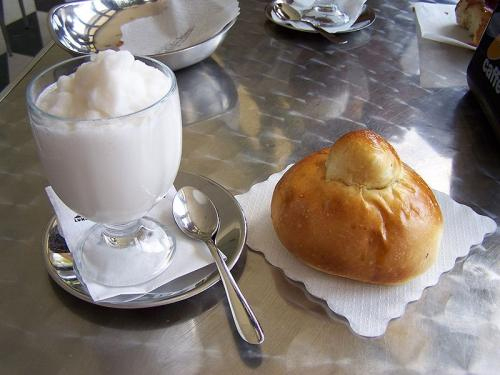 Ingredients
Butter

1/2 Cup (16 tbs)

Sugar

1/3 Cup (16 tbs)

Salt

1 Teaspoon

Milk

1/2 Cup (16 tbs)

Yeast package

1

Eggs

4 Small

All-purpose flour-3 1/2 cups, un-sifted
Directions
MAKING
1)In a large bowl, beat butter and add sugar and salt slowly, beat until fluffy.
2)In a pan, scald milk and cool it to lukewarm.
3)In a small bowl, dissolve yeast in 1/4 cup warm water.
4)In a large bowl, add milk, yeast mixture, 3 eggs, 1 egg yolk and flour to yeast mixture. Beat for 2 minutes.
5)Cover the bowl and let it rest in warm place for 2 hours until doubled.
6)Then, stir the dough and beat for 2 minutes. Cover and refrigerate overnight.
7)Punch down and on a lightly floured board knead lightly.
8)Remove 1/4 of the dough and shape into 24 small balls.
9)Shape remaining dough into 24 larger balls.
10)Take greased muffin tins and put the large 24 balls into it.
11)Now, make deep indentation in center of each ball. Dampen slightly with cold water.
12)Put the small balls into each indentation.
13)Leave it in warm place for about 50 minutes or until doubled in bulk.
14)Take a small bowl, and combine 1 tablespoon sugar and remaining egg white.
15)Brush glaze over dough and bake at 375 degrees for about 15 to 20 minutes.
16)Remove small balls and scoop out part of the roll and fill with desired filling.
17)Put the small ball.

SERVING
18)Serve petitis brioches immediately.