»

Recipes

»

Asian

»

Naan

»

Personal Naan Pizza
Personal Naan Pizza Recipe
In an effort to encourage Canadians to take a good, hard look at their eating habits, celebrity chef Michael P. Clive recently joined forces with Clover Leaf Seafoods to "re-invent fast-food". The result is a number of new recipes that challenge popular favourites like pizza, tacos, Pad Thai, shawarma, burritos and even the classic burger with bacon and cheese. Each recipe conforms with Canada's Food Guide recommended 2,000 calorie/day diet by replacing the less nutritious parts of takeout with healthier alternatives. If you are thinking about ordering pizza tonight, try this instead: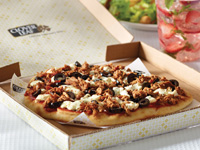 Ingredients
Naan bread pieces

2

Pizza sauce

1/2 Cup (16 tbs)

Goat cheese

1/2 Cup (16 tbs)

Clover leaf

2 Can (10oz)

, Sun-dried

Black olives

1/2 Cup (16 tbs)

, sliced
Directions
Place the Naan bread on a flat surface and spread the pizza sauce over top of the breads.

Sprinkle with cheese, tuna and top with black olives.

Place under the broiler for 3 minutes or until Naan is crisp.

Serve immediately.

Tips:

Other topping suggestions include sliced red onions, mushrooms or peppers.

Alternatively, replace Naan with flat greek pita (85 g each).

Serves: 2

More recipes are available online at www.cloverleaf.ca.