»

Recipes

»

Jam

»

Persimmon Freezer Jam
Persimmon Freezer Jam Recipe
Try this delicious version of Persimmon Freezer Jam recipe. I am sure, once you taste this mouth-watering Persimmon Freezer Jam, you'll always love to share it with your friends and family!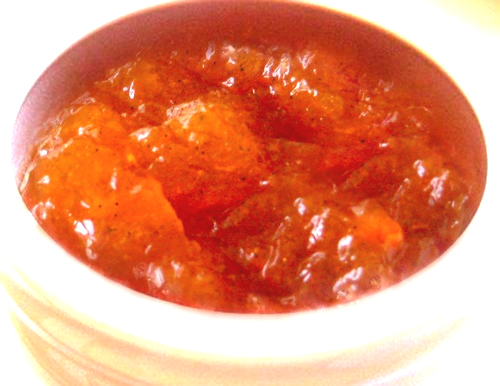 Ingredients
Persimmon puree

4 Cup (64 tbs)

Sugar

3 Cup (48 tbs)

Lemon juice

2 Tablespoon

Lemon peel

1⁄4 Teaspoon

, grated
Nutrition Facts
Serving size: Complete recipe
Calories 2792 Calories from Fat 11
% Daily Value*
Total Fat 1 g1.9%
Saturated Fat 0.13 g0.66%
Trans Fat 0 g
Cholesterol 0 mg
Sodium 7 mg0.3%
Total Carbohydrates 725 g241.8%
Dietary Fiber 24 g96%
Sugars 682.9 g
Protein 4 g7.9%
Vitamin A 214.9% Vitamin C 108.2%
Calcium 6.3% Iron 5.9%
*Based on a 2000 Calorie diet
Directions
In a large pan combine persimmon puree and sugar.
Cook over low heat, stirring constantly until thickened, about 20 minutes.
Do not boil.
Remove jam from heat and stir in lemon juice and lemon peel.
Pour into hot, sterilized jars to within 1/4 inch of top.
Adjust caps and seal.
Store in refrigerator or freezer.