»

Recipes

»

Eggplant

»

Perfect Fried Eggplant
Perfect Fried Eggplant Recipe
Fried Eggplant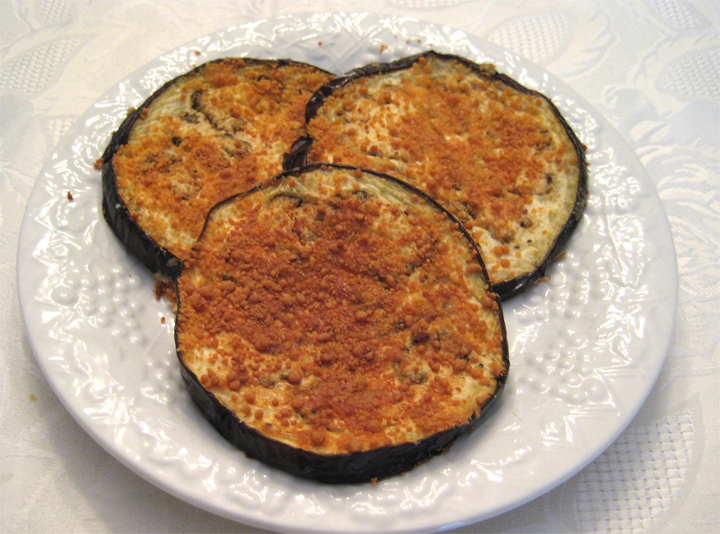 Ingredients
Eggs

2

, beaten

Eggs

2

Pepper

1 Dash

Dry bread crumbs

1 Cup (16 tbs)

Parmesan cheese

2 Tablespoon

, grated

Parmesan cheese

2 Tablespoon

Eggplant

1 Pound

Salt

To Taste

Salad oil/Shortening

150 Milliliter
Nutrition Facts
Serving size
Calories 538 Calories from Fat 418
% Daily Value*
Total Fat 47 g72.7%
Saturated Fat 5.9 g29.7%
Trans Fat 0.7 g
Cholesterol 221.7 mg
Sodium 501.7 mg20.9%
Total Carbohydrates 16 g5.5%
Dietary Fiber 4.4 g17.7%
Sugars 3.9 g
Protein 14 g28.9%
Vitamin A 6.7% Vitamin C 4.2%
Calcium 23.7% Iron 10.6%
*Based on a 2000 Calorie diet
Directions
GETTING READY
1) Cut unpeeled eggplant, crosswise, into 1/8-inch-thick slices.

MAKING
2) In shallow dish, mix eggs, salt, and pepper.
3) On a waxed paper, combine crumbs and cheese.
4) Dip the eggplant slices in egg, then in crumb mixture, coating completely.
5) Meanwhile, in large, heavy skillet, slowly heat salad oil (at least 1/4 inch).
6) Saute eggplant until golden-brown, about 3 minutes on each side.
7) Drain on paper towels.
8) Sprinkle lightly with salt.

SERVING
9) Serve the fried eggplant as side dish.