»

Recipes

»

Pizza
Pepperoni Pizza Recipe
It has never been so easy to whip up a delicious gourmet dish! This gorgeously delicious recipe for Pepperoni Pizza is sure to win many stomach. Give this Pepperoni Pizza a try and let your guests envy you!
Pepperoni pizza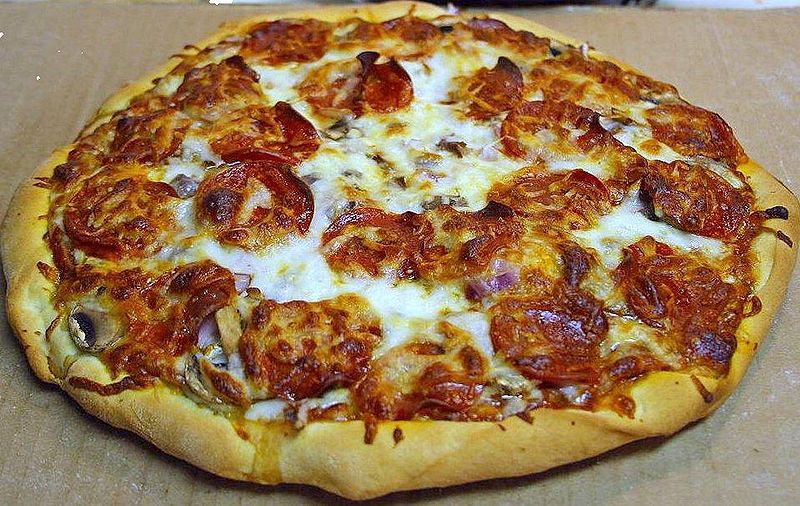 Ingredients
Hot roll mix - 1/2 package

Olive or salad oil - 2 tablespoons

White cheese

1/4 pound

Onion

1 Small

Garlic

1 Clove (5gm)

Ripe tomato

1 Large

, peeled

Tomato Paste

3 Tablespoon

Salt

1/2 Teaspoon

Oregano

1/8 Teaspoon

Pepper

1/8 Teaspoon

Sugar - 1/4. teaspoon

Mushrooms – 1 can (6-ounce), sliced

Pepperoni or other Italian sausage - 1/2 cup, sliced

Parsley

2 Tablespoon

, chopped

Parmesan cheese

1/4 Cup (16 tbs)

, grated
Directions
GETTING READY
1) Preheat oven to 450° F (very hot).

MAKING
2) Prepare dough according to package directions.
3) Divide dough in half and make a thick bottom crust on two 9 or 10 pie pans.
4) Brush with 1 tablespoon oil.
5) Cover with half the shredded cheese.
6) Take a saucepan and heat 1 tablespoon oil in it.
7) Add onion and garlic. Saute until tender.
8) Discard garlic.
9) Add tomato paste, seasonings and tomato.
10) Cook for about 10 minutes over low heat.
11) Pour mixture into pie crusts.
12) Top with the remaining shredded cheese, sausage and mushrooms.
13) Sprinkle with parsley and Parmesan cheese.
14) Bake for about 18 minutes.

SERVING
15) Cut with a pizza cutter and serve hot.