»

Recipes

»

Pecan

»

Peppered Pecans
Peppered Pecans Recipe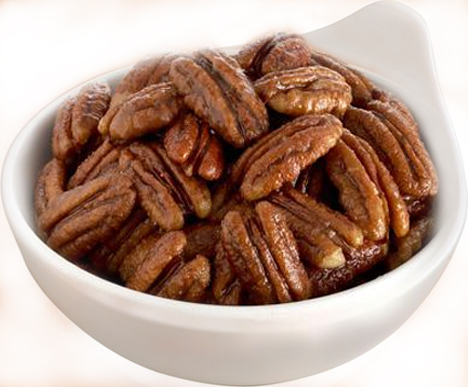 Summary
Preparation Time
5 Min
Cooking Time
5 Min
Ready In
10 Min
Difficulty Level
Easy
Health Index
Healthy
Servings
4
Ingredients
Sugar

1⁄4 Cup (4 tbs)

Coarse salt

1 Tablespoon

(kosher salt)

Black pepper

2 Tablespoon

, coarsely ground

Pecan halves

4 Ounce

(1 cup)
Nutrition Facts
Serving size
Calories 263 Calories from Fat 173
% Daily Value*
Total Fat 21 g31.8%
Saturated Fat 1.8 g9.1%
Trans Fat 0 g
Cholesterol 0 mg
Sodium 1239.9 mg51.7%
Total Carbohydrates 21 g7.1%
Dietary Fiber 4.7 g18.8%
Sugars 13.7 g
Protein 3 g6.8%
Vitamin A 0.8% Vitamin C 3.1%
Calcium 5.3% Iron 16%
*Based on a 2000 Calorie diet
Directions
GETTING READY
1) In a small bowl, add sugar, salt and 1 1/2 to 2 tablespoons pepper, according to your taste. Combine well and place aside.

MAKING
2) Use a large, very heavy skillet, preferably cast iron, to heat over high heat until it is hot enough to vaporize a bead of water on contact.
3) Toss the pecans on the skillet for 1 minute to bring the nut oil to the surface.
4) Sprinkle half of the seasoning mixture on the nuts and continue shaking the pan for 1 minute, so that the sugar melts.
5) Sprinkle remaining seasoning mixture and continue shaking the pan until the sugar again melts and coats the pecans.
6) In a baking sheet, transfer the nuts at once and spread evenly.
7) Allow to cool down.

SERVING
8) Use to top the salads or enjoy with drinks or store in a sealed plastic bag.