»

Recipes

»

Lamb

»

Peppered Lamb Loin
Peppered Lamb Loin Recipe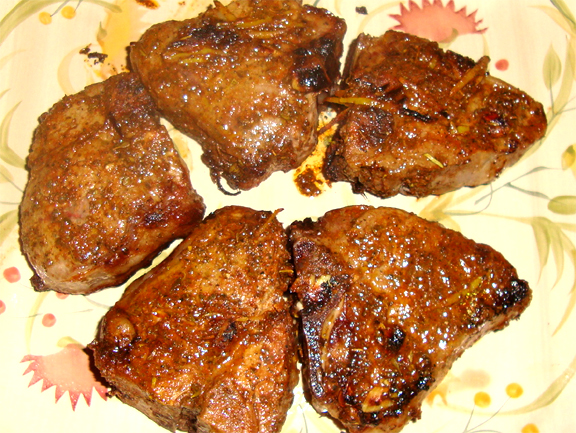 Ingredients
Boneless lamb loin

1 Pound

, trimmed of all visible fat

Freshly cracked peppercorns

2 Tablespoon

Sherry vinegar/White wine vinegar

1⁄4 Cup (4 tbs)

Minced shallots

1 Tablespoon

Defatted beef stock

1 Cup (16 tbs)

Minced mint

2 Tablespoon

Margarine

1 Tablespoon

Medium egg noodles

8 Ounce

(No Yolk)
Nutrition Facts
Serving size
Calories 214 Calories from Fat 48
% Daily Value*
Total Fat 5 g8.4%
Saturated Fat 1.7 g8.6%
Trans Fat 0 g
Cholesterol 69.2 mg
Sodium 89 mg3.7%
Total Carbohydrates 25 g8.2%
Dietary Fiber 2.2 g8.9%
Sugars 0.6 g
Protein 17 g33.4%
Vitamin A 5.5% Vitamin C 3.6%
Calcium 4.5% Iron 15.8%
*Based on a 2000 Calorie diet
Directions
Cut the lamb into 4 fillets.
Firmly press the peppercorns into both sides of each piece.
Coat a no-stick frying pan with no-stick spray.
Over medium-high heat, heat the pan until hot.
Sear each fillet on both sides.
Transfer the meat to an ovenproof pan and finish cooking at 400° for 10 to 15 minutes.
In the same frying pan, combine the sherry vinegar or white wine vinegar and shallots.
Cook for a few minutes, scraping any browned bits from the bottom of the pan.
Add the stock.
Stir in the mint and margarine.
Keep warm.
Meanwhile, cook the noodles in a large pot of boiling water until just tender.
Drain and keep warm.
Cut the lamb into very thin slices and place on a plate with the noodles.
Drizzle with the sauce.