»

Recipes

»

Roll

»

Crescent

»

Pecan Crescents
Pecan Crescents Recipe
Crispy and crunchy, are the delicious Pecan Crescents. This is a great mid-day pick-me-up snack. The flavor comes together really nicely, with a combination of chocolate, vanilla and the pecans. Try it out, I'm sure you too will enjoy it!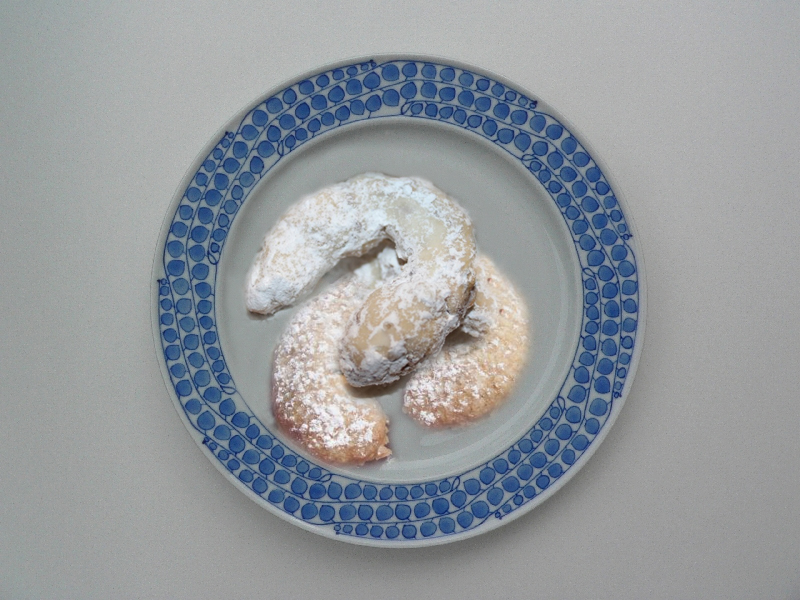 Ingredients
Butter

1/4 Cup (16 tbs)

Shortening

3/4 Cup (16 tbs)

Vanilla

1 Teaspoon

Flour

2 Cup (16 tbs)

, sifted

Sugar

1/4 Cup (16 tbs)

Semi-sweet chocolate morsels - 1 package (1 cup), coarsely chopped

Pecans

2 Cup (16 tbs)

, chopped
Directions
MAKING
1) Combine the butter, shortening, and vanilla and cream well.
2) Sift together the flour and sugar, and stir into the creamed mix.
3) Add in the remaining ingredients and blend well.
4) Shape the dough into 1 1/2 inch-long, pencil-thick lengths.
5) Shape into crescents.
6) Arrange on an ungreased baking sheet, and place in the oven at 350° F for 15 minutes.

SERVING
7) Serve as a snack.