»

Recipes

»

Stuffing
Pecan Stuffing Recipe
Pecan stuffing is a nutty and rich stuffing recipe that can be used for poultry meats of choice. Prepared with added mushrooms, eggs and bread, the pecan stuffing is herbed and spiced with nutmeg and mace. Sherried to taste and moistened, it is a great stuffing for your roasts.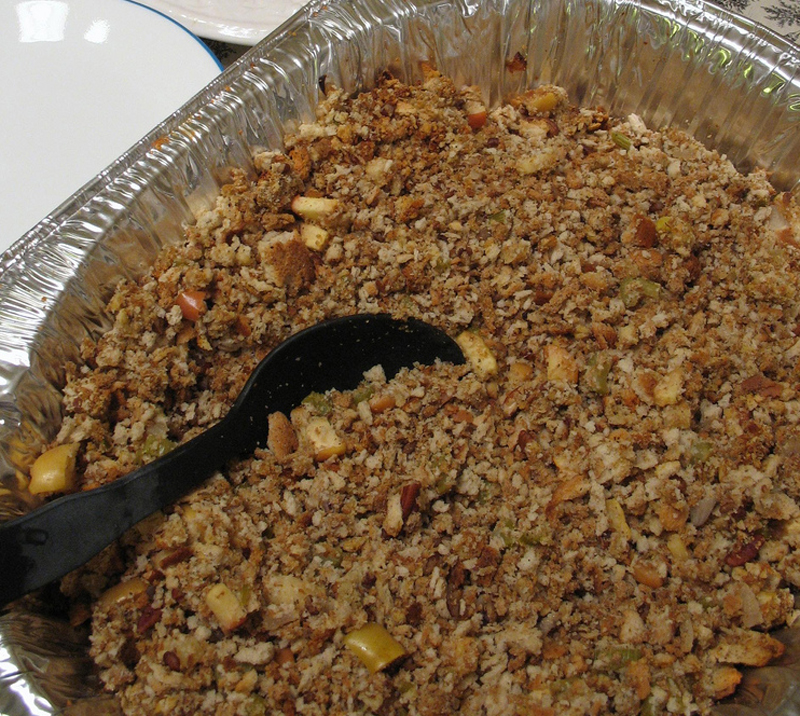 Summary
Difficulty Level
Easy
Health Index
Average
Ingredients
Onion

1

, minced

Chopped parsley

1 Tablespoon

Celery seed

1 Teaspoon

Dried thyme

1 Teaspoon

Salt

1 Teaspoon

Turkey liver

1

Butter

1⁄2 Cup (8 tbs)

Dry sherry

1⁄2 Cup (8 tbs)

Nutmeg

1⁄2

, grated

Fresh mushrooms

1⁄2 Pound

, finely chopped

Pepper

1⁄2 Teaspoon

Mace

1⁄4 Teaspoon

Salted pecans

2 Cup (32 tbs)

, coarsely chopped

Hard cooked eggs

6

Toasted bread

6
Nutrition Facts
Serving size: Complete recipe
Calories 4008 Calories from Fat 2965
% Daily Value*
Total Fat 331 g509.8%
Saturated Fat 99 g495.2%
Trans Fat 0 g
Cholesterol 2023.2 mg
Sodium 5101 mg212.5%
Total Carbohydrates 174 g58%
Dietary Fiber 44.2 g176.9%
Sugars 38.5 g
Protein 117 g234.7%
Vitamin A 1573.6% Vitamin C 106.7%
Calcium 90.3% Iron 188.6%
*Based on a 2000 Calorie diet
Directions
Cook the liver in boiling, salted water until tender, then mince.
Melt 2 tablespoons of the butter, add minced onion, and cook until soft.
Add the turkey liver and saute until lightly browned.
Toss in the mushrooms and cook very briefly.
Crush the toast into fine crumbs (it must be well toasted and dry), combine with the remainder of the butter (melted), the salt, pepper, celery seed, thyme, parsley, nutmeg, and mace.
Put the hard cooked eggs through a ricer and mix in thoroughly.
Finally, combine the liver and herb mixtures, and add the pecans and sherry.
Image Courtesy :
http://www.flickr.com/photos/bellatrix6/8315822903/