»

Recipes

»

Pecan Shortbread Cookies
Pecan Shortbread Cookies Recipe
Pecan Shortbread Cookies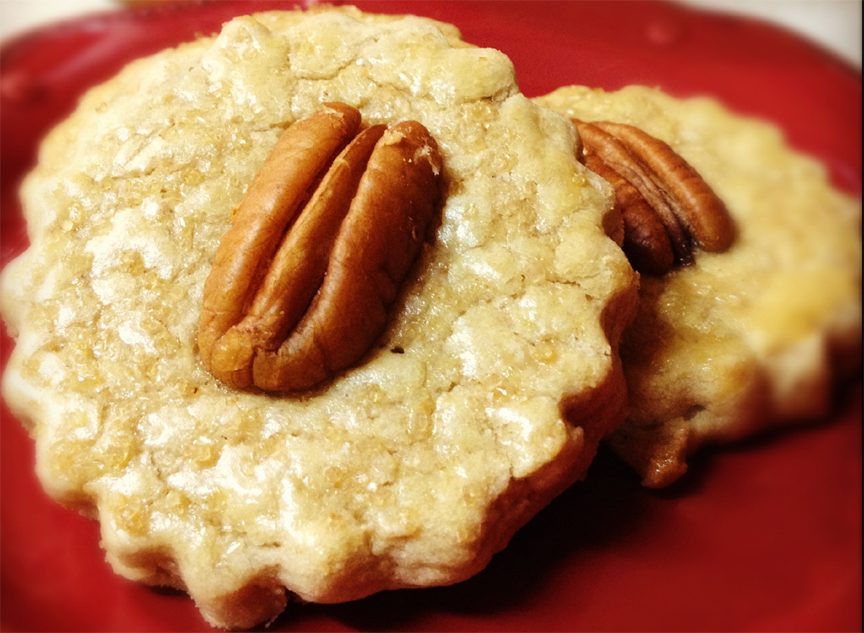 Ingredients
Sugar

250 Milliliter

(1 Cup)

Butter/Margarine

125 Milliliter

(1/2 Cup, At Room Temperature)

Lard/Vegetable shortening

125 Milliliter

(1/2 Cup, At Room Temperature)

Egg yolk

1 Large

Vanilla

1 Teaspoon

(5 Milliliter)

All purpose flour

560 Milliliter

(2 1/4 Cups)

Ground cinnamon

3⁄4 Teaspoon

(4 Milliliter)

Anise seeds

1⁄4 Teaspoon

, finely crushed (1 Milliliter)

Salt

1 Pinch

Finely chopped pecans

125 Milliliter

(1/2 Cup)
Nutrition Facts
Serving size: Complete recipe
Calories 5969 Calories from Fat 2856
% Daily Value*
Total Fat 326 g501.7%
Saturated Fat 123.3 g616.3%
Trans Fat 0 g
Cholesterol 572.6 mg
Sodium 289 mg12%
Total Carbohydrates 700 g233.2%
Dietary Fiber 29.3 g117.2%
Sugars 257.1 g
Protein 73 g146.2%
Vitamin A 68.5% Vitamin C 3%
Calcium 27% Iron 168.8%
*Based on a 2000 Calorie diet
Directions
1. Combine 3/4 cup (180 mL) sugar, the butter and lard in large mixer bowl; beat until light and fluffy. Add egg yolk and vanilla; beat until smooth.
2. Mix flour, cinnamon, anise seeds and salt in medium bowl. Add flour mixture, 1/4 at a time, to butter mixture, stirring to blend well after each addition. Stir in pecans.
3. Heat oven to 350°F (180°C). Place remaining 1/4 cup (60 mL) sugar in small bowl
4. For each cookie, pinch off piece of dough the size of small walnut (enough to make about 1-inch or 2.5-cm ball). Roll dough between palms into ball; roll ball in sugar to coat. Place balls 3 inches (8 cm) apart on ungreased baking sheets.
5. Press each ball with bottom of glass to flatten into 3/8 inch (1-cm) thick circle, dipping glass into sugar each time to prevent sticking.
6. Bake cookies 10 minutes. Reduce oven setting to 300°F (150°C); continue baking until cookies are light brown, 12 to 15 minutes longer.
7. Let cookies cool slightly on baking sheets set on wire racks, 2 to 3 minutes. Transfer cookies from baking sheets to racks; cool completely.