»

Recipes

»

Indian

»

Pulao

»

Peas Pulao
Peas Pulao Recipe
A tasty & simple rice dish to make when you are running out of time.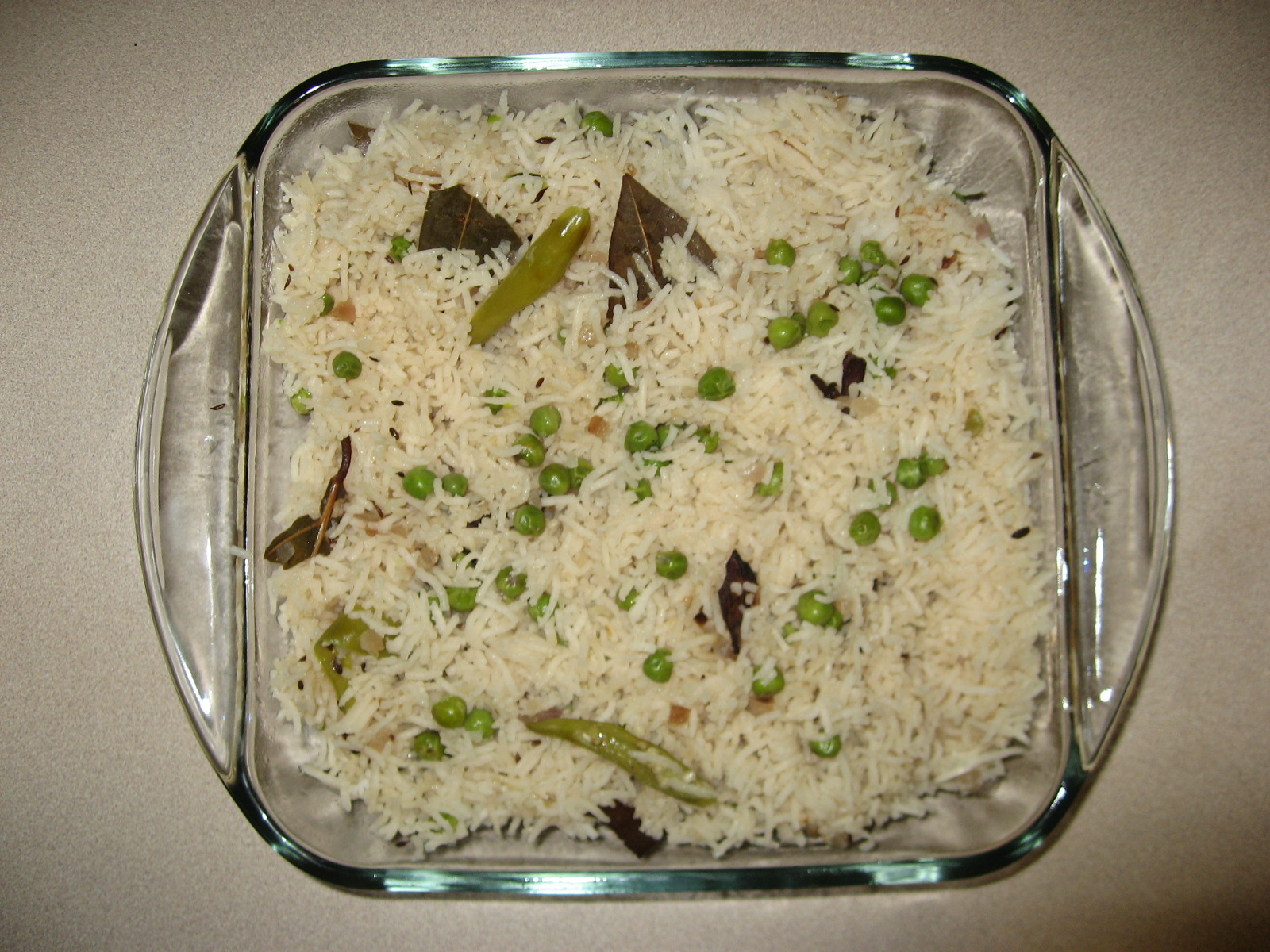 Ingredients
Basmati rice/Long grain rice

2 Cup (32 tbs)

(cup = rice cooker cup)

Frozen green peas/Fresh green peas

1⁄2 Cup (8 tbs)

Cumin seeds

1⁄2 Teaspoon

Bay leaves

4

Cloves

5

Cinnamon sticks

3 Medium

Onion

1⁄2

, julienned

Green chillies

3

, slit lengthwise

Salt

To Taste
Nutrition Facts
Serving size
Calories 298 Calories from Fat 6
% Daily Value*
Total Fat 0.77 g1.2%
Saturated Fat 0.18 g0.9%
Trans Fat 0 g
Cholesterol 0 mg
Sodium 85.9 mg3.6%
Total Carbohydrates 65 g21.7%
Dietary Fiber 3 g12.1%
Sugars 1.8 g
Protein 7 g13.2%
Vitamin A 4.8% Vitamin C 36.8%
Calcium 5.3% Iron 9.5%
*Based on a 2000 Calorie diet
Directions
Wash 2 cups Basmati/Long grain rice. Drain water. Keep aside.

In a shallow open pan, heat 2 tbs oil. Add cumin seeds, bay leaves, cloves, cinnamon sticks, green chillies & green peas. Saute for 10 seconds. Add this to rice.

In the same pan, heat 1 tbs oil. Add onions & fry until they turn brown. Add to Rice.

Add 4 cups water to rice, add salt according to taste & cook rice either in rice cooker or on stove.

Serve Hot with Raita or any gravy.

Dipti says :
Tried this one and the outcome was fantastic!!!
Posted on:
13 December 2009 - 2:52am

Thank you kaberichattejee
Posted on:
1 February 2008 - 6:53pm