»

Recipes

»

Chutney
Pear Chutney Recipe
This Pear Chutney tastes incredible ! Try this spicy pear and cherry condiment with breads or pasta and let me know if you like it ! Your suggestions for this Pear Chutney are welcome !
Pear Chutney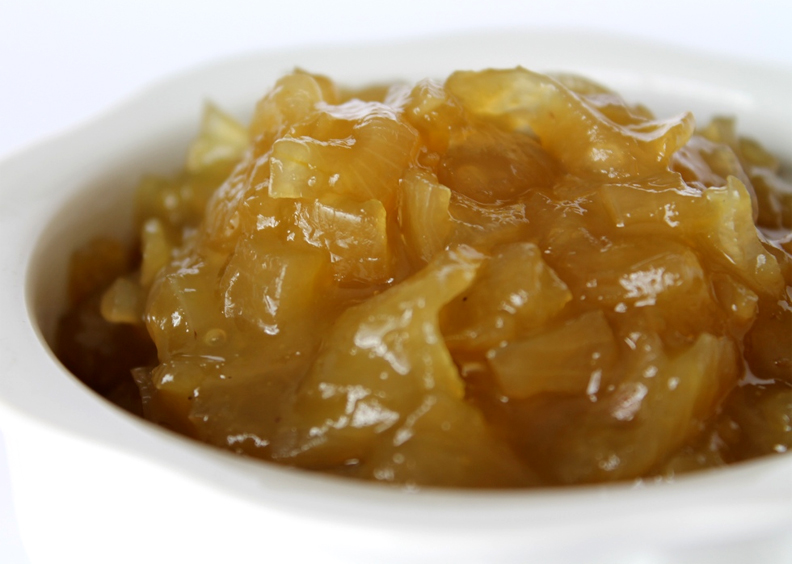 Summary
Difficulty Level
Easy
Health Index
Average
Ingredients
Dried pear halves

12 Ounce

, chopped

Red onion

1 Large

, finely chopped

Pear nectar

2 1⁄2 Cup (40 tbs)

Dark seedless raisins/Golden raisins

2 Cup (32 tbs)

Cider vinegar

3⁄4 Cup (12 tbs)

Dried tart cherries

1⁄2 Cup (8 tbs)

Sugar

1⁄3 Cup (5.33 tbs)

Mustard seeds

1 Tablespoon

Grated peeled ginger

1 Tablespoon

(Use Fresh)

Salt

1⁄4 Teaspoon

Cinnamon stick

1
Nutrition Facts
Serving size: Complete recipe
Calories 3099 Calories from Fat 69
% Daily Value*
Total Fat 8 g12.7%
Saturated Fat 0.58 g2.9%
Trans Fat 0 g
Cholesterol 0 mg
Sodium 581.5 mg24.2%
Total Carbohydrates 788 g262.5%
Dietary Fiber 56.2 g224.6%
Sugars 654.6 g
Protein 27 g54.4%
Vitamin A 9.9% Vitamin C 89.9%
Calcium 54.1% Iron 97.8%
*Based on a 2000 Calorie diet
Directions
In 4 quart saucepan, heat all ingredients and 1 cup water to boiling over high heat, stirring occasionally.
Reduce heat to low; simmer, uncovered, 15 minutes or until pears are very soft, stirring frequently.
Discard cinnamon stick.
Spoon chutney into jars for gift giving.
Store in refrigerator for up to a month.