»

Recipes

»

Peanut

»

Peanut Drops
Peanut Drops Recipe
These Peanut drops are incredibly yummy ! Try these Peanut confections for dessert tonight and tell me if you liked them ! Your suggestions for the Peanut drops are welcome !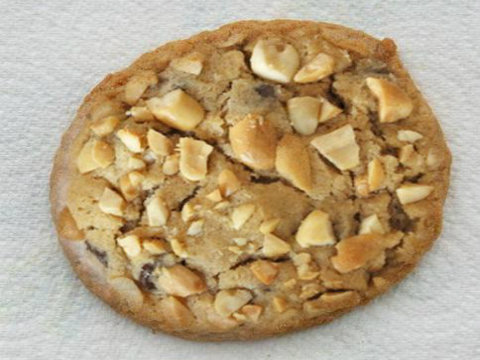 Ingredients
Biscuit mix

2 Cup (32 tbs)

Brown sugar

1 Cup (16 tbs)

, firmly packed

Ground mace

1 Teaspoon

Vegetable shortening

1⁄4 Cup (4 tbs)

, soft

Egg

1

Milk

1⁄3 Cup (5.33 tbs)

Peanuts

1 Cup (16 tbs)

, chopped
Nutrition Facts
Serving size
Calories 427 Calories from Fat 162
% Daily Value*
Total Fat 19 g29%
Saturated Fat 3.7 g18.7%
Trans Fat 1 g
Cholesterol 31.3 mg
Sodium 91.8 mg3.8%
Total Carbohydrates 62 g20.7%
Dietary Fiber 3.4 g13.5%
Sugars 32.9 g
Protein 7 g13.3%
Vitamin A 1% Vitamin C 0.25%
Calcium 12.4% Iron 14.7%
*Based on a 2000 Calorie diet
Directions
Combine biscuit mix, sugar and mace in medium size bowl; cut in shortening with pastry blender or 2 knives until mixture is consistency of coarse cornmeal.
Blend in egg and milk beaten together; sprinkle peanuts on dough and partly fold in.(If peanuts are very salty, rub between paper towels before chopping.)
Drop by teaspoonfuls 1 inch apart, on greased cookie sheets.
Bake in moderate oven (375°F) 6 to 8 minutes, or until golden brown; remove and cool on wire racks.