»

Recipes

»

Divinity

»

Peanut Divinity
Peanut Divinity Recipe
Do try out this scrumptious Peanut Divinity recipe. I love peanuts, and this is always swell-stocked at home! It is an effortless recipe, but results in a mouthwatering snack. Flavored with vanilla, this recipe includes loads of peanuts! A delicious sweet anytime-snack!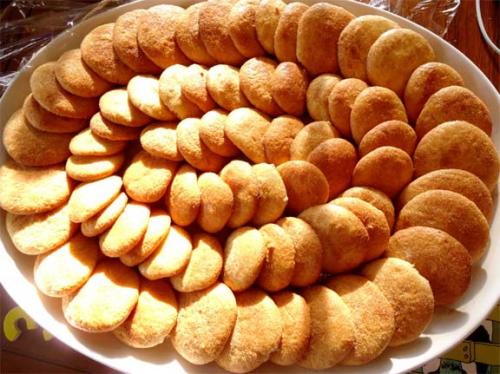 Ingredients
Sugar

3 Cup (48 tbs)

Water

2⁄3 Cup (10.67 tbs)

Light corn syrup

2⁄3 Cup (10.67 tbs)

Egg whites

3

Vanilla

7 Teaspoon

Peanut butter

1⁄2 Cup (8 tbs)

Salted peanuts

1 Cup (16 tbs)

, ground
Nutrition Facts
Serving size: Complete recipe
Calories 4755 Calories from Fat 1219
% Daily Value*
Total Fat 146 g224.1%
Saturated Fat 24.9 g124.3%
Trans Fat 0 g
Cholesterol 0 mg
Sodium 1506 mg62.7%
Total Carbohydrates 841 g280.4%
Dietary Fiber 20.3 g81.2%
Sugars 679.9 g
Protein 62 g123.9%
Vitamin A 0.1% Vitamin C 1.2%
Calcium 27.1% Iron 42.1%
*Based on a 2000 Calorie diet
Directions
GETTING READY
1) Grease a cookie sheet.

MAKING
2) In a deep saucepan, combine the sugar, water, and corn syrup.
3) Heat and allow to boil.
4) Cook to a hard-ball stage.
5) In a bowl, add the egg whites and beat to soft peaks.
6) Pour in hot syrup in thin stream, beating till the mix turns stiff.
7) Beat in the vanilla, peanut butter, and peanuts.
8) Spread on the cookie sheet.
9) Cool.

SERVING
10) Cut into squares.