»

Recipes

»

Fat

»

Butter

»

Peanut Butter Ham Squares
Peanut Butter Ham Squares Recipe
Snacks are a must for me to nibble on during my leisure and I have found this Peanut Butter Ham Squares as a great way to indulge myself. You too would want to try this wonderful and extremely delicious Peanut Butter Ham Squares; use this simple recipe then!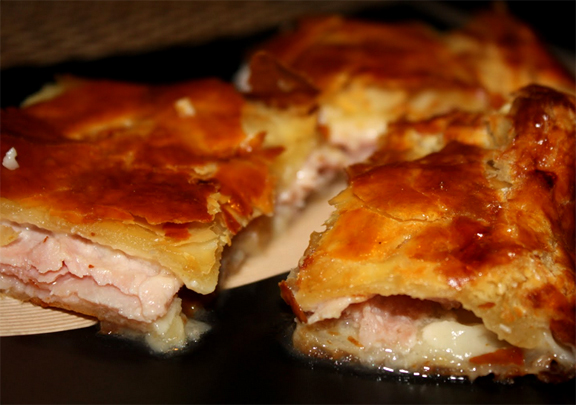 Ingredients
Peanut butter

1⁄2 Cup (8 tbs)

(Smooth Or Crunchy)

Grated onion/1/2 teaspoon instant minced onion

2 Teaspoon

Thin boiled ham slices

6

Egg

1

, beaten

Water

2 Tablespoon

Dry bread crumbs

1⁄2 Cup (8 tbs)

Peanut oil

1 Cup (16 tbs)
Nutrition Facts
Serving size: Complete recipe
Calories 3015 Calories from Fat 2602
% Daily Value*
Total Fat 297 g457.3%
Saturated Fat 53.7 g268.3%
Trans Fat 0 g
Cholesterol 264.4 mg
Sodium 2313.7 mg96.4%
Total Carbohydrates 52 g17.3%
Dietary Fiber 8.6 g34.6%
Sugars 12.5 g
Protein 56 g111.3%
Vitamin A 4.9% Vitamin C 1.2%
Calcium 14.4% Iron 34.8%
*Based on a 2000 Calorie diet
Directions
Mix peanut butter and onion.
Spread mixture on half the ham slices.
Top with remaining ham slices.
Wrap in waxed paper and chill in refrigerator for about an hour.
Cut into 1-inch squares.
Mix beaten egg with water.
Dip squares in egg and then in bread crumbs.
Fry in hot peanut oil about 2 minutes or until golden brown.
Serve at once on toothpicks.
Makes 5 dozen canapes.