»

Recipes

»

Dip

»

Peanut Butter Cheese Dip
Peanut Butter Cheese Dip Recipe
I have found this Peanut Butter Cheese Dip as a great way to indulge myself. You too would want to try this wonderful and extremely delicious Peanut Butter Cheese Dip; use this simple recipe then!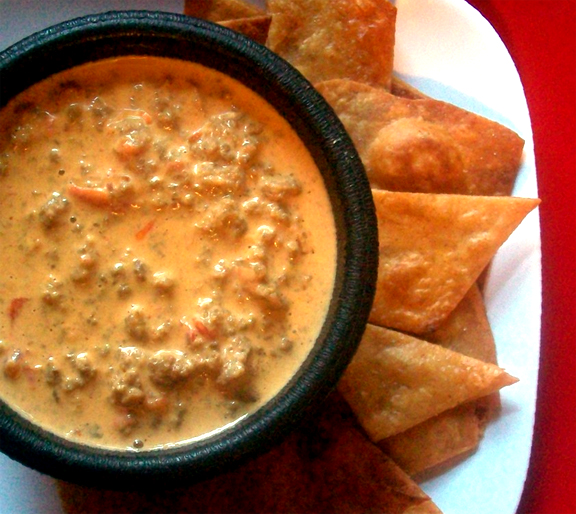 Ingredients
Onion

1⁄2 Cup (8 tbs)

, chopped

Green pepper

1 Cup (16 tbs)

, chopped

Garlic

1 Clove (5 gm)

, chopped

Peanut oil

2 Tablespoon

Tomatoes

2

, chopped

Tomato juice

3⁄4 Cup (12 tbs)

Thyme

1⁄4 Teaspoon

Oregano

1⁄4 Teaspoon

Bay leaf

1⁄2

Salt

1⁄2 Teaspoon

Pepper

1⁄8 Teaspoon

American cheddar cheese

1⁄2 Pound

, grated

Smooth peanut butter

3⁄4 Cup (12 tbs)
Nutrition Facts
Serving size: Complete recipe
Calories 2466 Calories from Fat 1738
% Daily Value*
Total Fat 202 g311%
Saturated Fat 71.6 g357.9%
Trans Fat 0 g
Cholesterol 238.2 mg
Sodium 3343.1 mg139.3%
Total Carbohydrates 84 g27.9%
Dietary Fiber 19.4 g77.5%
Sugars 33.4 g
Protein 105 g210.2%
Vitamin A 116.4% Vitamin C 308.5%
Calcium 185.3% Iron 49.3%
*Based on a 2000 Calorie diet
Directions
Cook onion, green pepper and garlic in peanut oil until ten- der, but not browned.
Add tomatoes and tomato juice with seasonings, cover and cook over low heat 10 minutes.
Stir once or twice.
Put in top of double boiler and add cheese and peanut butter.
Cook and stir over boiling water until cheese is melted and mixture blended.
Serve in chafing dish with Fritos or potato chips.