»

Recipes

»

Feel

»

Brittle

»

Peanut Brittle Cookies
Peanut Brittle Cookies Recipe
Peanut Brittle Cookies make a nice between the meals snack for all ages. It is healthy as it has goodness of peanuts and delicious because of the ingredients used. Try this simple and easy recipe of Peanut Brittle Cookies.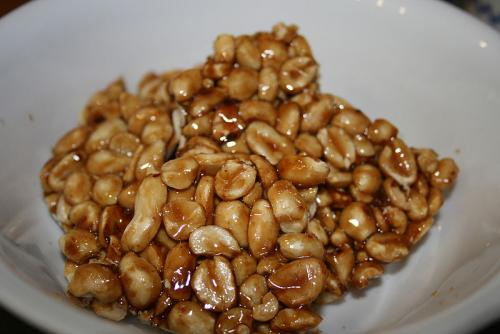 Ingredients
Shortening

3/4 Cup (16 tbs)

Sugar

1 1/2 Cup (16 tbs)

Water

1/4 Cup (16 tbs)

Vanilla

1/2 Teaspoon

All-purpose flour-2 cups, sifted

Baking soda

1/8 Teaspoon

Salt

1 Teaspoon

Peanut brittle-1 cup, crushed
Directions
MAKING
1)In a bowl, beat together shortening and sugar until light and fluffy.
2)Add water and vanilla and mix well.
3)In another bowl, sift together flour, soda and salt.
4)Mix it with creamed mixture.
5)Add peanut brittle and mix well.
6)Take a well-greased baking sheet and drop spoonsful batter on it, about 2 inches apart.
7)Bake at 375 degrees for 10 minutes, or until lightly browned.

SERVING
8)Serve Peanut brittle cookies as a snack in between meals.