»

Recipes

»

Peanut Blossom
Peanut Blossom Recipe
Peanut Butter Blossom Cookies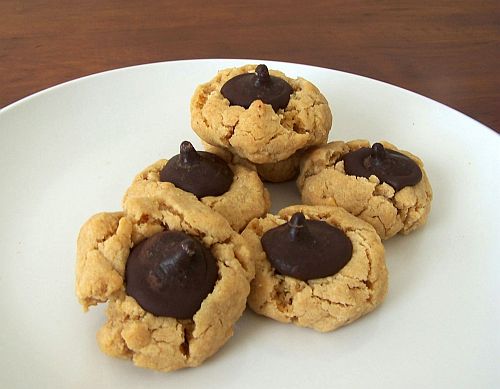 Ingredients
Shortening

1/4 Cup (16 tbs)

Peanut butter

3/4 Cup (16 tbs)

Sugar

1/3 Cup (16 tbs)

Brown sugar - 1/3 cup, packed

Egg

1

Milk

2 Tablespoon

Vanilla

1 Teaspoon

All-purpose flour - 1 1/2 cups, un-sifted

Baking soda

1 Teaspoon

Salt

1/2 Teaspoon

Granulated sugar - as needed

package

1
Directions
GETTING READY
1. Preheat oven to 370 degrees Fahrenheit.
2. Using a sieve, sift flour with salt and soda; keep aside.

MAKING
3. In a large bowl, using a electric mixer cream together sugars, butter and peanut butter.
4. Add eggs, milk and vanilla; beat well.
5. Add the egg mixture to the flour mix and stir well to mix.

FINALISING
6. Shape the dough into small size balls and roll the balls in sugar.
7. On a ungreased cookie sheet, place the balls and bake in preheated oven for about 10-12 minutes.
8. As soon as the cookies are baked, quickly press 1 candy kiss on top of each cookie.
9. Let the cookies cool over wire rack.

SERVING
10. Serve Peanut Blossoms warm or cool and store in air tight containers.