»

Recipes

»

Cake

»

Peachy Cake Roll
Peachy Cake Roll Recipe
This Peachy Cake Roll is a true delight for anyone who enjoys a great treat! Yes, here's a simple and rather effortless recipe of Peachy Cake Roll for you to try. Let me know how it turned out for you!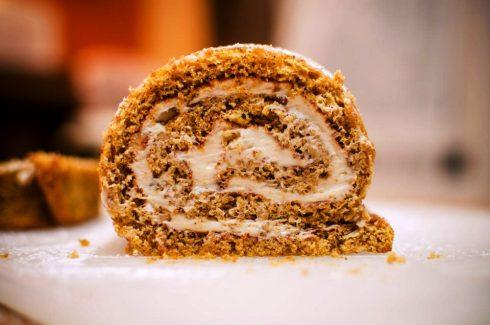 Ingredients
Salt

1/4 Teaspoon

(Cake:)

Eggs

3 Small

(Cake:)

Sugar

3/4 Cup (16 tbs)

(Cake:)

Vanilla

1/2 Teaspoon

(Cake:)

Pancake mix

3/4 Cup (16 tbs)

(Cake:)

Frozen peaches

1 1/2 Cup (16 tbs)

, finely chopped (Filling:)

Lemon juice

1 Tablespoon

(Filling:)

Grated lemon rind - 1 teaspoon

Vanilla Ice Cream

1 Pint

(Filling:)

Whipping cream

1 Cup (16 tbs)

(Topping:)

Confectioner's sugar

3 Tablespoon

(Topping:)

Vanilla essence

1/2 Teaspoon

(Topping:)

Shredded coconut

1/2 Cup (16 tbs)

, toasted (Topping:)

Peach

8

(Topping:)
Directions
Getting Ready
1. Preheat oven to 400°F.
2. Grease and line a pan.

Making
1. For cake, add salt to eggs; beat until thick and lemon
colored.
2. Add sugar to eggs, a little at a time, beating well after
each addition.
3. Add vanilla and pancake mix; stir until smooth.
4. Spread evenly in greased waxed paper-lined pan.
5. Bake in hot oven () 8 to 10 minutes.
6. While cake roll is baking, sprinkle a towel well with
confectioners' sugar.
7. Immediately on taking cake from oven, loosen edges and turn
out on towel.
8. Peel waxed paper carefully from cake; trim off edges.
9. Roll cake in towel.
10. Let stand 20 minutes, then unroll.
11. Combine peaches, lemon juice, rind and softened Ice cream;
spread over cake roll.
12. Roll up quickly.
13. Wrap cake roll in aluminum foil; place in freezer several
hours.
(May be made a day to two in advance.)

Serving
14. Just before serving, whip cream until stiff; fold in sugar
and vanilla; frost top and sides of cake.
15. Sprinkle with coconut garnish with peach slices.