»

Recipes

»

American

»

Cobbler
Peach Cobbler Recipe
Peach Cobbler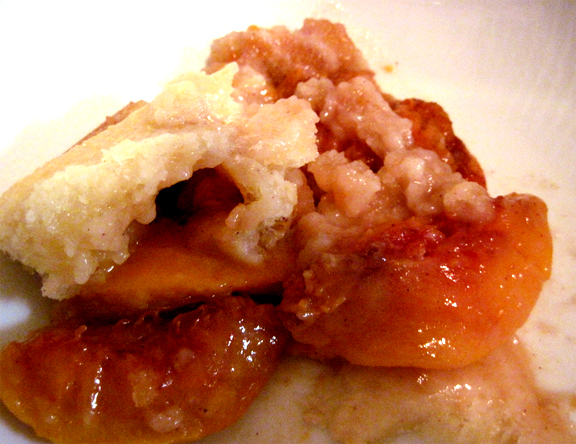 Ingredients
Light corn syrup

1⁄2 Cup (8 tbs)

Cornstarch

1 Tablespoon

Ground cinnamon

1⁄2 Teaspoon

Peaches

6 Cup (96 tbs)

, peeled

Buttermilk

1 Cup (16 tbs)

, baking

Milk

1⁄4 Cup (4 tbs)

Margarine

2 Tablespoon

, melted

Sugar

1 Tablespoon
Nutrition Facts
Serving size: Complete recipe
Calories 1313 Calories from Fat 269
% Daily Value*
Total Fat 30 g46.6%
Saturated Fat 5.5 g27.5%
Trans Fat 0 g
Cholesterol 5.6 mg
Sodium 138.3 mg5.8%
Total Carbohydrates 267 g88.8%
Dietary Fiber 15.3 g61.3%
Sugars 141.2 g
Protein 19 g39%
Vitamin A 83% Vitamin C 101.9%
Calcium 16.8% Iron 14.5%
*Based on a 2000 Calorie diet
Directions
Stir together corn syrup, cornstarch and cinnamon in a bowl.
Add peaches; toss to coat well.
Spoon mixture into an 8 x 8 x 2 inch baking dish; bake in preheated 400° F oven 15 minutes.
Remove from oven.
Stir together buttermilk baking mix, milk, margarine and sugar in a bowl until smooth; beat vigorously 20 strokes.
Drop by spoonfuls over fruit; bake 15 to 20 minutes, or until golden.