»

Recipes

»

Pie

»

Eggless Peach Chiffon Pie
Eggless Peach Chiffon Pie Recipe
This simple Peach Chiffon Pie is just the way any chef would make it. Follow this extremely simple and quick way to make this Peach Chiffon Pie and WOW your friends and family!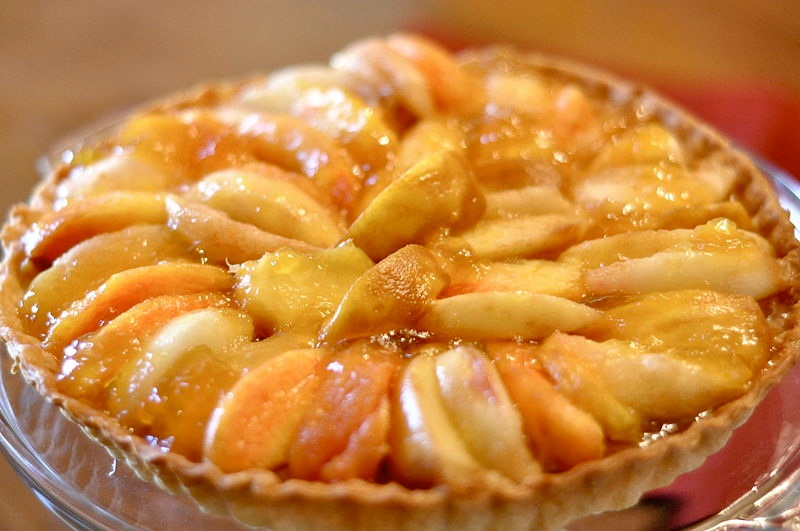 Ingredients
Unflavored gelatin

1 Tablespoon

Sugar

1⁄3 Cup (5.33 tbs)

Salt

1⁄8 Teaspoon

Flour

1 Tablespoon

Peach slices

1⁄2 Can (5 oz)

(No. 2.5)

Lemon juice

3 Tablespoon

Grated lemon rind

1⁄2 Teaspoon

Evaporated milk

1 Cup (16 tbs)

, chilled

Baked pie shell/10-inch chocolate cookie crust

10 Inch
Nutrition Facts
Serving size: Complete recipe
Calories 917 Calories from Fat 249
% Daily Value*
Total Fat 28 g43.3%
Saturated Fat 15.1 g75.6%
Trans Fat 0 g
Cholesterol 74.2 mg
Sodium 685.5 mg28.6%
Total Carbohydrates 138 g45.9%
Dietary Fiber 3.1 g12.6%
Sugars 102 g
Protein 34 g68%
Vitamin A 21.5% Vitamin C 310.5%
Calcium 69% Iron 9.6%
*Based on a 2000 Calorie diet
Directions
Combine in a small saucepan gelatine, sugar, salt and flour.
Drain peaches; add IV2 cups of the peach syrup to sugar mixture.
Cook, stirring constantly, until mixture thickens.
Remove from heat and add lemon juice and rind.
Chill until mixture is con- sistency of unbeaten egg whites.
Beat with a rotary beater until fluffy.
Whip chilled evaporated milk until it is the consistency of whipped cream.
Fold the gelatine mixture into the whipped milk.
Reserve eleven peach slices to garnish top of pie; fold remaining peach slices into gelatine mixture.
Pour custard into pie shell.
Chill until firm.
Garnish top of pie with remaining peach slices.
Makes one 10-inch pie.
Image Courtesy :
http://en.wikipedia.org/wiki/File:Peach-Frangipane_Tart.jpg