»

Recipes

»

Pie

»

Peach Apple Pie
Peach Apple Pie Recipe
Apples & Peaches make a delicious combination. Try this Peach Apple pie recipe by mixing the fruits in with butter,sugar & flour.Serve with French vanilla ice cream & a dash of cinnamon sprinkle.Enjoy!!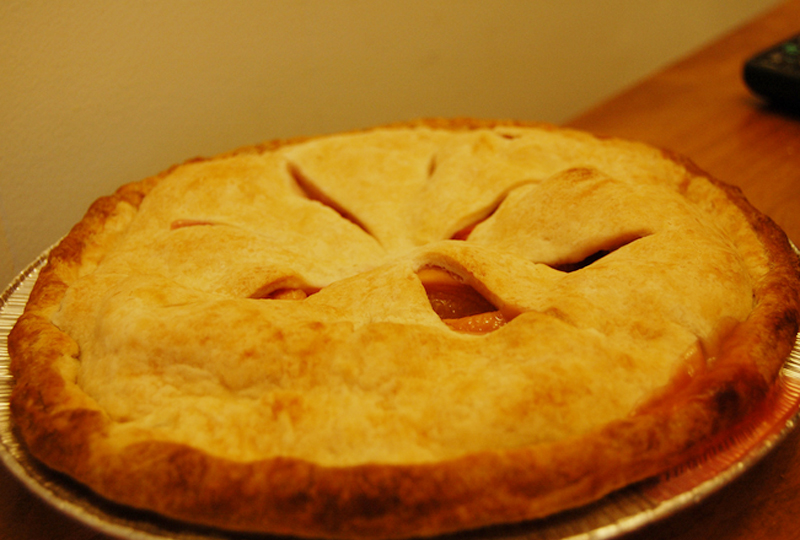 Summary
Preparation Time
8 Min
Cooking Time
1 Hr 0 Min
Ready In
1 Hr 8 Min
Difficulty Level
Medium
Ingredients
Pie crusts

2

(10 inch)

Flour

1⁄2 Cup (8 tbs)

Peaches

4 Large

(fresh)

Apples

5 Large

, finely sliced (peeled)

Butter

1 Tablespoon

Sugar

2 Tablespoon

Apple pie spice

1⁄2 Tablespoon
Nutrition Facts
Serving size: Complete recipe
Calories 3326 Calories from Fat 1184
% Daily Value*
Total Fat 132 g203.3%
Saturated Fat 53 g265%
Trans Fat 0 g
Cholesterol 32.3 mg
Sodium 1920.1 mg80%
Total Carbohydrates 529 g176.3%
Dietary Fiber 41.8 g167.4%
Sugars 192.8 g
Protein 29 g58.7%
Vitamin A 63.9% Vitamin C 166.1%
Calcium 16.4% Iron 58.3%
*Based on a 2000 Calorie diet
Directions
1) Pre-heat oven to 425.
2)Mix sugar, flour, and the spice in a small bowl, add the sliced fruit coating them into the spices.
3) Pour the filling into the bottom pie crust in a
deep dish pie pan, with the deepest part in the middle.Glace with butter and arrange them on top of the apples.Wet edges with water & cover it with aluminum foil.
4) Combine the 1 tb butter [melted],spice and
brush the top of the crust, bake at 425 for 15 min. reduce heat to
400 and bake for 40 min.
5)Serve with Vanilla ice cream.
Image Courtesy :
http://www.flickr.com/photos/stuart_spivack/3868178062/