»

Recipes

»

Indian

»

Papdi

»

Patisa Or Soan Papdi
Patisa or Soan Papdi Recipe
Indian Sweet of Bengali orgin made of gram flour and sweet. Loved by children. Dry and lasts long.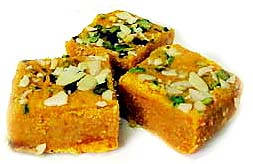 Summary
Preparation Time
15 Min
Cooking Time
45 Min
Ready In
1 Hr 0 Min
Difficulty Level
Easy
Health Index
Just Enjoy
Cuisine
Bihari
Ingredients
Gramflour

1 1/4 Cup (16 tbs)

Plain flour

1 1/4 Cup (16 tbs)

Ghee

250 Gram

Sugar

2 1/2 Cup (16 tbs)

Water

1 1/2 Cup (16 tbs)

Milk

2 Tablespoon

1/2 tsp. cardamom seeds crushed coarsely

Char magaz

2 Teaspoon

4" squares cut from a thin polythene sheet
Directions
Sift both flours together.
Heat ghee in a heavy saucepan.
Add flour mixture and roast on low till light golden.
Keep aside to cool a little, stirring occasionally.
Prepare syrup simultaneously.
Make syrup out of sugar, water and milk as shown in introduction.
Bring syrup to 2 1/2 thread consistency.
Pour at once into the flour mixture.
Beat well with a large fork till the mixture forms threadlike flakes.
Pour onto a greased surface or thali and roll to 1" thickness lightly.
Sprinkle the charmagaz seeds and elaichi and gently press down with palm.
Cool, cut into 1" squares, wrap individually into square pieces of thin plastic sheet.
Store in airtight container.