»

Recipes

»

Asian

»

Pastel Tres Leches (Three Milk Cake)
Pastel Tres Leches (Three Milk Cake) Recipe
Tres Leches isn't for everyone due to texture, but it's worth trying. Very sweet and smooth, great any time of the year.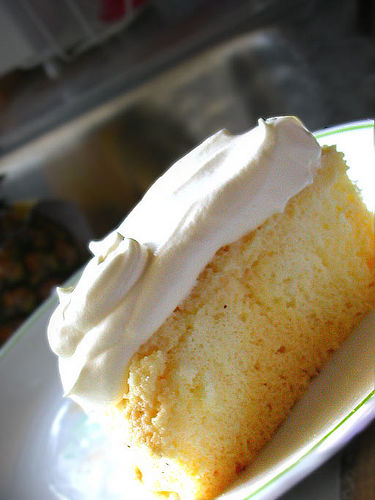 Summary
Preparation Time
15 Min
Cooking Time
20 Min
Ready In
35 Min
Difficulty Level
Medium
Health Index
Average
Servings
15
Recipe Story
No one really knows where Pastel Tres Leches originated, but many claim it's origins.
Ingredients
Flour

3/4 Cup (16 tbs)

Baking powder

1 Teaspoon

1/2 Cup + 2 Tablespoons Sugar

Salt

1 Pinch

Eggs

3 Large

Milk

1/2 Cup (16 tbs)

Vanilla

1 Teaspoon

1 Can Evaporated Milk: 12oz

1 Can Sweetened Condensed Milk: 12oz

1 Can Whole Milk: Use empty 12oz can

Vanilla

1 Teaspoon
Directions
Preheat oven to 350 degrees. Lightly grease and flour a 9 inch round cake pan. Mix flour, baking powder and pinch of salt in medium bowl. In another bowl, stir together eggs, milk and vanilla lightly. Mix with dry ingredients and stir well. Scrape into cake pan and back for about 20 minutes or until the top is light golden brown and springs back when touched in the center. Take cake out, cool for 15 minutes. To make the milk mixture: put the evaporated, condensed, and whole milk and vanilla into a large mixing bowl or blender and blend well. The cake should be allowed to soak and chill for at least 2 hours, preferable over night in refrigerator. (I've had better results with leaving it overnight.)
Top with fruit and whipped cream if you desire.