»

Recipes

»

Pasta

»

Pasta With Garlic, Capers, And Herbs
Pasta With Garlic, Capers, And Herbs Recipe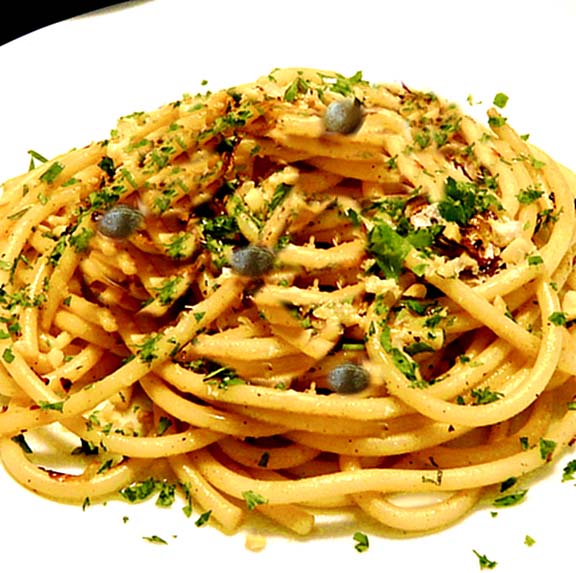 Ingredients
Pasta

1 1⁄2 Pound

(Orrechietti / Fusilli / Radiatore)

Olive oil

1⁄2 Cup (8 tbs)

Garlic

8 Clove (40 gm)

, minced

Capers

1⁄3 Cup (5.33 tbs)

, drained and rinsed, reserve 2 teaspoons liquid

Minced fresh basil

2⁄3 Cup (10.67 tbs)

Minced fresh thyme/Rosemary leaves

2 Tablespoon

Dried red pepper flakes

1 Teaspoon

Grated parmesan cheese

1⁄4 Cup (4 tbs)

Fresh basil leaves

4

(For Garnish)
Nutrition Facts
Serving size: Complete recipe
Calories 3748 Calories from Fat 1169
% Daily Value*
Total Fat 131 g201.1%
Saturated Fat 20.6 g102.9%
Trans Fat 0 g
Cholesterol 27.4 mg
Sodium 1103.3 mg46%
Total Carbohydrates 521 g173.7%
Dietary Fiber 30.9 g123.4%
Sugars 24.7 g
Protein 104 g208.8%
Vitamin A 56.4% Vitamin C 117%
Calcium 83.5% Iron 108%
*Based on a 2000 Calorie diet
Directions
Cook the pasta al dente in stockpot according to package directions; drain.
In saute pan, heat oil over medium-low heat.
Add garlic and cook 2 minutes.
Add capers and caper liquid and cook another minute.
To the saute pan, add pasta, herbs, and red-pepper flakes, tossing well, and cook over medium heat for a few minutes.
Remove pasta to a serving dish, toss with Parmesan, and garnish with basil leaves.
Serve hot or at room temperature.