»

Recipes

»

Pizza

»

Pasta Pizza
Pasta Pizza Recipe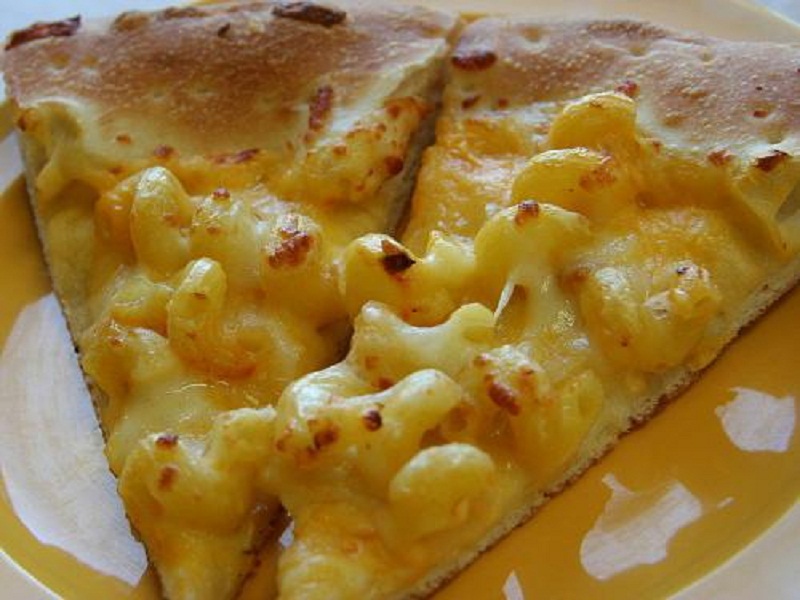 Ingredients
Macaroni

2 Cup (32 tbs)

, cooked, drained

Eggs

3

, beaten

Milk

1⁄2 Cup (8 tbs)

Shredded cheddar cheese

2 Ounce

Onion

1⁄4 Cup (4 tbs)

, finley chopped

Lean ground beef

1 Pound

Tomato sauce

15 Ounce

(1 Can)

Dried basil leaves

1 Teaspoon

Oregano leaves

1 Teaspoon

, dried

Garlic salt

1⁄2 Teaspoon

Tomato

1 Medium

, thinly sliced

Green bell pepper

1

, sliced

Shredded mozzarella cheese

6 Ounce
Nutrition Facts
Serving size
Calories 471 Calories from Fat 171
% Daily Value*
Total Fat 19 g29.7%
Saturated Fat 9.4 g46.8%
Trans Fat 0 g
Cholesterol 183.5 mg
Sodium 469.9 mg19.6%
Total Carbohydrates 39 g13%
Dietary Fiber 3.4 g13.6%
Sugars 7.6 g
Protein 34 g67.6%
Vitamin A 24% Vitamin C 55.1%
Calcium 28.7% Iron 23.4%
*Based on a 2000 Calorie diet
Directions
GETTING READY
1) Preheat oven to 350°F.
2) In a small bowl, add eggs and milk to combine.
3) Fold in hot macaroni and mix lightly to coat.
4) Stir in Cheddar cheese and onion; mix well.

MAKING
5) Use a well-buttered 14-inch pizza pan to spread macaroni mixture onto the bottom.
6) Place inside oven to bake for 25 minutes.
7) Meanwhile, use a large skillet to heat over medium-high heat.
8) Add meat to brown by occasional stirring until the meat gets separated.
9) Drain the excess liquid.
10) Add tomato sauce, basil, oregano and garlic salt and stir well.
11) Spread this mixture over macaroni crust.
12) Top with tomato slices and pepper rings.
13) Sprinkle Mozzarella cheese on top.
14) Return back to oven to bake for another 15 minutes or until cheese is bubbly.

SERVING
15) Serve hot by garnishing with more cheese, if you want.