»

Recipes

»

Puff

»

Parisienne Potato Puff
Parisienne Potato Puff Recipe
This Parisian Potato Puff is one of the best baked potato dishes I've ever tasted ! Try out this baked mashed potato and cheese dish with seasonings and tell me if you like it ! Your suggestions for this Parisian Potato Puff are welcome !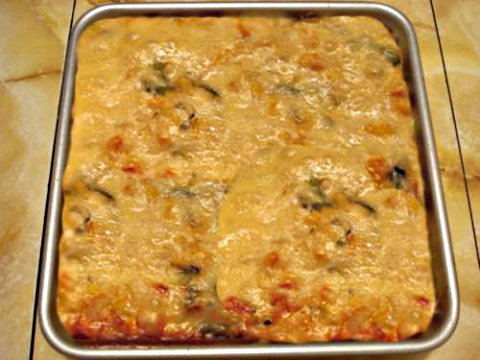 Ingredients
Chopped green pepper

2 Tablespoon

Chopped green onion

2 Tablespoon

Bacon drippings

1 Tablespoon

Prepared instant mashed potatoes

4 Cup (64 tbs)

Process gruyere cheese

6 Ounce

, cut in small cubes

Bacon bits

1⁄4 Cup (4 tbs)
Nutrition Facts
Serving size
Calories 702 Calories from Fat 124
% Daily Value*
Total Fat 14 g21.2%
Saturated Fat 7.9 g39.5%
Trans Fat 0 g
Cholesterol 40.8 mg
Sodium 579.2 mg24.1%
Total Carbohydrates 125 g41.8%
Dietary Fiber 13.4 g53.6%
Sugars 0.3 g
Protein 26 g51.9%
Vitamin A 9.7% Vitamin C 109%
Calcium 29% Iron 0.9%
*Based on a 2000 Calorie diet
Directions
Saute green pepper and onion in bacon drippings until soft in a small frying pan; beat into mashed potatoes.
Fold in three fourths of the cheese.
Spoon mixture into a 4 cup baking dish; sprinkle remaining cheese over top.
Bake in moderate oven (375°F) for 20 minutes, or until cheese melts and potatoes are lightly golden.
Sprinkle bacon bits over top.