»

Recipes

»

Indian

»

Papdi
Papdi Recipe
This Papdi is one of the best papdi versions that I've known. This crispy crunchy seasoned gram flour fries are perfect for papdi chat, an adorable mix of papri with vegetables and seasonings in yogurt ! Just try this Papdi and let me know if you like it !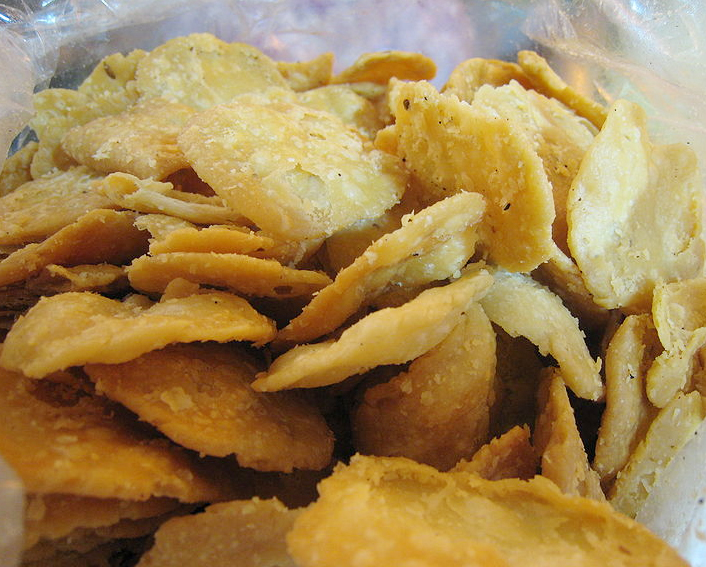 Ingredients
Gram flour

2 Cup (32 tbs)

Turmeric powder

1⁄4 Teaspoon

Soda bicarbonate

1⁄4 Teaspoon

Oil

1 Tablespoon

Oil

2 Cup (32 tbs)

(For Deep Frying)

Ajwain seeds

1⁄4 Teaspoon

Water

1 Cup (16 tbs)

(Adjust Quantity As Needed)

Salt

To Taste
Nutrition Facts
Serving size: Complete recipe
Calories 1296 Calories from Fat 648
% Daily Value*
Total Fat 74 g113.8%
Saturated Fat 9.3 g46.5%
Trans Fat 0 g
Cholesterol 0 mg
Sodium 854.6 mg35.6%
Total Carbohydrates 114 g37.8%
Dietary Fiber 21.4 g85.8%
Sugars 21.1 g
Protein 44 g87.4%
Vitamin A 2.8% Vitamin C 3.9%
Calcium 9.5% Iron 56.6%
*Based on a 2000 Calorie diet
Directions
Mix all the ingredients in a bowl.
Add water little by little in order to make a very soft dough out of it.
Take a small amount of dough and put it on a greased polythene sheet.
Use the base of the palm to drag the dough ball into a straight line, right from the start.
Support it by holding the dough with the other hand at its tip.
By doing this, you can make a strip from the dough ball.
Even though it sounds difficult, with a little practice you can master this technique very easily.
Heat some oil in a wide and heavy pan and put the strips in the heated oil.
Fry both sides on medium flame, till they become crispy.
Be careful not to get them browned Slowly lift them from the pan after draining the oil.
On cooling the strips become crispier.
Image Courtesy :
http://commons.wikimedia.org/wiki/File:Papri_chaat.jpg