»

Recipes

»

Indian

»

Paneer

»

Paneer Makhni
paneer makhni Recipe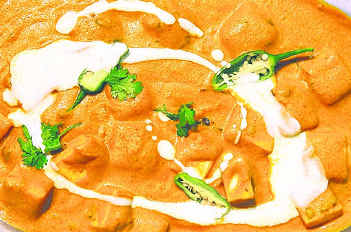 Ingredients
Paneer cubes

1⁄2 Cup (8 tbs)

Onion paste

2 Tablespoon

Ginger garlic paste

1 Teaspoon

Turmeric powder

1 Pinch

(Haldi)

Chili powder

1⁄2 Teaspoon

Tomato puree

1⁄4 Cup (4 tbs)

Dried fenugreek leaves

1 Teaspoon

(Kasoori Methi)

Milk

3⁄4 Cup (12 tbs)

Sugar

1 Teaspoon

Butter

1⁄2 Teaspoon

Oil

1⁄2 Teaspoon

Salt

To Taste
Nutrition Facts
Serving size
Calories 155 Calories from Fat 60
% Daily Value*
Total Fat 7 g10.5%
Saturated Fat 3 g15%
Trans Fat 0 g
Cholesterol 16.8 mg
Sodium 531.7 mg22.2%
Total Carbohydrates 15 g4.8%
Dietary Fiber 1.4 g5.5%
Sugars 11.5 g
Protein 10 g20.8%
Vitamin A 13.5% Vitamin C 8.3%
Calcium 16% Iron 5.8%
*Based on a 2000 Calorie diet
Directions
1.Heat the butter and oil in a pan.


2. Add the onion paste, ginger-garlic paste and stir for some time.


3. Then add the turmeric powder, chilli powder and tomato puree and cook till the oil separates.


4. Finally, add the kasoori methi, milk, sugar, salt and paneer cubes and simmer for 2 to 3 minutes.


5. Serve hot.

Dish is looking nice but why u garnished w/ green chillies.
Posted on:
7 June 2007 - 6:23am

good picture......very good recipe! But i have a two questions? 1.Is it a Punjabi cuisine? 2.what is the difference between Dalmakhani & paneer makhani?
Posted on:
20 May 2007 - 3:11pm