»

Recipes

»

Indian

»

Paneer

»

Paneer Kalakand
Paneer Kalakand Recipe
Very simple, easy & yummy recipe that you must try out this Diwali and serve to your family and friends.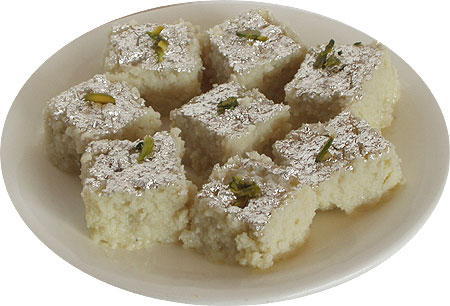 Summary
Preparation Time
10 Min
Cooking Time
25 Min
Ready In
35 Min
Difficulty Level
Easy
Health Index
Average
Servings
4
Ingredients
Low fat paneer

1 Cup (16 tbs)

Milk powder

10 Tablespoon

Cream fresh

1 Cup (16 tbs)

Powdered sugar

1 Cup (16 tbs)

Saffron

1 Pinch

(diluted in 1 tbsp milk)
Nutrition Facts
Serving size
Calories 303 Calories from Fat 92
% Daily Value*
Total Fat 10 g15.9%
Saturated Fat 6.1 g30.4%
Trans Fat 0 g
Cholesterol 36.7 mg
Sodium 267.2 mg11.1%
Total Carbohydrates 41 g13.8%
Dietary Fiber 0.01 g0.03%
Sugars 36.2 g
Protein 11 g22.5%
Vitamin A 6.4% Vitamin C 2.3%
Calcium 23.1% Iron 1.2%
*Based on a 2000 Calorie diet
Directions
*Mix all the ingredients in a heavy bottomed pan and cook in a medium flame for about 20 minutes.
* By 20 minutes the mixture will be thickened and slight aromatic.
*The mixture will leave sides.
* Add the saffron and remove from heat.
*Pour in a dish or bowl.
*Allow it to cool for 2-3 hours.
*Cut into shapes.
*Serve chilled.

Anonymous says :
Hiii....can u please tell me the shelf life of this recipe?
Posted on:
23 September 2009 - 5:31pm

sadia21 says :
where can i find fresh cream in usa?
Posted on:
12 September 2008 - 5:26am
Hey tried it yesterday and its really amazing also tried mixing a bit of chicolate flavour as well ....came out really nice!!
Posted on:
9 November 2007 - 7:13am

mouthwatering sweet! But what is the difference between simple kalakand and paneer kalakand?
Posted on:
12 July 2007 - 2:49pm

Hi Ganesh...the usual Kalakand is made of whole milk, condensed milk and also sometimes Khoya/Mawa. You can get innovative and try making kalakand with different ingredients. I once made it using Ricotta cheese and it came out really well.
Posted on:
9 November 2007 - 12:20pm

Sirsha says :
Yes, with Ricotta cheese I also made rasgolla and gulab jamun, they came out great too.
Posted on:
13 August 2009 - 12:23pm