»

Recipes

»

Scallop

»

Pan Seared Sea Scallops
Pan Seared Sea Scallops Recipe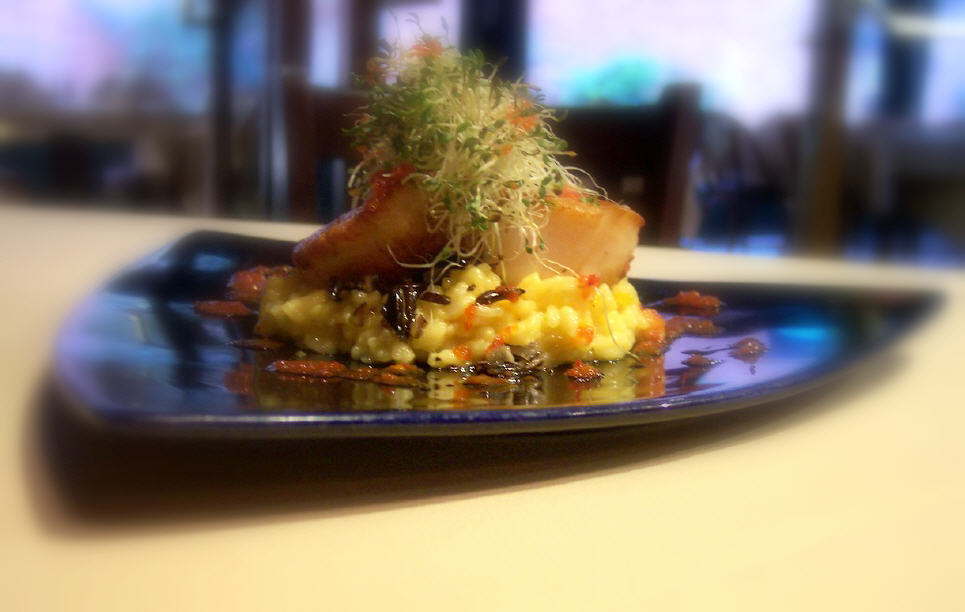 Ingredients
Pan Seared Sea Scallops

Jumbo scallops

4

14oz can black beans or navy beans

Alfalfa sprouts

1 Bunch (100gm)

Bell peppers

1 To taste

, roasted

Olive oil

4 Tablespoon

Onions

1/2 Cup (16 tbs)

, diced

Kosher salt

To Taste

Black pepper

1 To taste

Bean Ragout
Directions
In sauté pan, heat olive oil, add onions, cook until transparent and crispy, Add black beans or navy beans, add salt & pepper to taste. Simmer for 2 minutes & set aside.

Scallops:
Pan Sear scallops in sauté pan over high heat on both side until golden brown.

Presentation:
coop one spoon of roasted bell peppers on the center of the plate followed by spoon of black bean ragout. Top with 2 pan seared scallops. Finish with a nest of alfalfa sprouts and serve.

This picture was taking at NOTE LUNNA Resataurant in 2002 in Glendale CA. it's is a nice one.Seard sea scallops with saffran Risotto and i finished with afalfa sprouts.Thank you Allesandra for the comment.Chef Rachid
Posted on:
4 November 2008 - 12:42am

I love sea scallops and this is a beautiful picture. Next on my list for sure.
Posted on:
4 November 2008 - 12:29am