»

Recipes

»

Indian

»

Palak Aloo
Palak Aloo Recipe
Palak Aloo has a fine taste. Palak Aloo gets its taste from potatoes mixed with spinach and chili. Palak Aloo is inspired by many food joints around the world.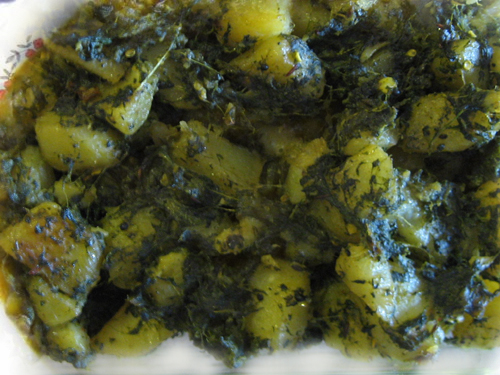 Summary
Difficulty Level
Easy
Cuisine
Indian
Ingredients
40g ghee or butter

Potatoes

225 Gram

, cut in to chunks

Garlic paste

2 Teaspoon

Ginger paste

2 Teaspoon

1 green chilli, halved and seeded

450g spinach, roughly chopped

Coriander leaves

1 Tablespoon

, chopped

Salt

To Taste

50g melted butter or ghee, for serving
Directions
Heat the ghee or butter in a pan and fry the potatoes for 4-5 minutes.
Add the garlic and ginger pastes and the chilli.
Fry for 1-2 minutes.
Stir in the spinach, coriander and salt to taste.
Add a little water and continue frying for 10-15 minutes until the potatoes are tender and the spinach is dry.