»

Recipes

»

Spanish

»

Paella

»

Paella With Tomatoes
Paella With Tomatoes Recipe
Paella is a traditional Spanish dish. This Vegan versian is perfect for a lighter meal with a large salad.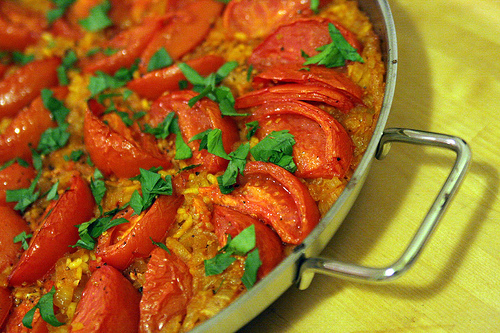 Recipe Story
Key is to use Heirloom tomatoes rather than those hard carboard tasting hybrids often sold in markets today.
Ingredients
Salt

To Taste

Stock

3 1⁄2 Cup (56 tbs)

Ripe tomatoes

1 1⁄2 Pound

, cut into wedges

Ground black pepper

To Taste

Extra virgin olive oil

1⁄4 Cup (4 tbs)

Onion

1 Medium

, minced

Peas

1 Cup (16 tbs)

Garlic

1 Tablespoon

, minced

Tomato paste

1 Tablespoon

Saffron threads

1 Pinch

Smoked spanish paprika

2 Teaspoon

Spanish rice/Other short-grain rice

2 Cup (32 tbs)

(Bomba)

Minced parsley

1 Teaspoon

(garnish)
Nutrition Facts
Serving size
Calories 376 Calories from Fat 96
% Daily Value*
Total Fat 11 g16.7%
Saturated Fat 0.99 g4.9%
Trans Fat 0 g
Cholesterol 1.4 mg
Sodium 1167.3 mg48.6%
Total Carbohydrates 60 g19.9%
Dietary Fiber 5.2 g20.6%
Sugars 7.9 g
Protein 10 g20.9%
Vitamin A 32.2% Vitamin C 79.3%
Calcium 5.4% Iron 5.4%
*Based on a 2000 Calorie diet
Directions
1. Preheat oven to 450 degrees. Warm stock or water in a saucepan. Put tomatoes in a medium bowl, sprinkle with salt and pepper, and drizzle them with 1 tablespoon olive oil. Toss to coat.

2. Put remaining oil in a 10- or 12-inch ovenproof skillet over medium-high heat. Add onion and garlic, sprinkle with salt and pepper, and cook, stirring occasionally, until vegetables soften, 3 to 5 minutes. Stir in tomato paste, saffron if you are using it, and paprika and peas an veggies if desired, and cook for a minute more. Add rice and cook, stirring occasionally, until it is shiny, another minute or two. Add liquid and stir until just combined.

3. Put tomato wedges on top of rice and drizzle with juices that accumulated in bottom of bowl. Put pan in oven and roast, undisturbed, for 15 minutes. Check to see if rice is dry and just tender. If not, return pan to oven for another 5 minutes. If rice looks too dry but still is not quite done, add a small amount of stock or water (or wine). When rice is ready, turn off oven and let pan sit for 10 to 15 minutes.

4. Remove pan from oven and sprinkle with parsley. If you like, put pan over high heat for a few minutes to develop a bit of a bottom crust before serving.

Wow finally I found a vegan paella recipe that I can enjoy.
Posted on:
26 August 2008 - 3:26pm

Absolutely delicious picture. Really this is one of the best dish from Valencian Cuisine. Tomato makes it too much delicious.
Posted on:
29 March 2008 - 1:10pm