»

Recipes

»

Spanish

»

Paella
Paella Recipe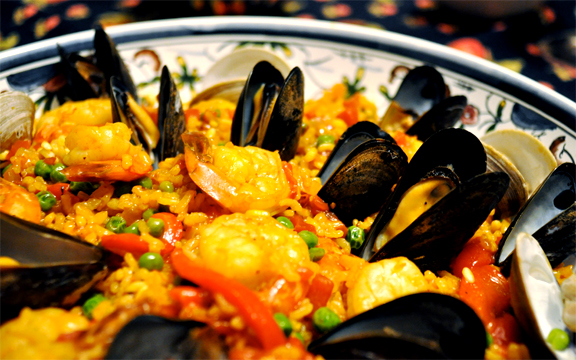 Ingredients
Lobster/2 lobster tails, 10 ounce each

1 1⁄4 Pound

Olive oil

4 Tablespoon

Chicken breasts

5 Small

, halved and boned

Olive oil

4 Tablespoon

(If Needed)

Onions

3 Medium

, chopped

Garlic

1 Clove (5 gm)

, minced

Tomatoes/1 can, 1 pound tomatoes, drained

3 Large

, chopped

Peppers

3 Medium

, chopped (Green / Red Colored)

Rice

2 Cup (32 tbs)

(Brand)

Canned chicken broth

27 1⁄2 Ounce

(2 Cans, 13 3/4 Ounce Each)

Dry white wine

1 Cup (16 tbs)

Salt

3 Teaspoon

Thyme leaf

1⁄2 Teaspoon

Oregano

1⁄2 Teaspoon

Ground coriander

1⁄4 Teaspoon

Saffron

1⁄4 Teaspoon

Paprika

1⁄4 Teaspoon

Bay leaf

1

Shrimp

12 Large

, cleaned and deveined

Little neck clams/Mussels

1

Chorizo sausage

1 Pound

(Spanish / Mexican)

Frozen peas

1⁄2 Cup (8 tbs)

, thawed
Directions
If using whole lobster, remove tail and claws; cut into 3 or 4 pieces each.
If using lobster tails, cut into 5 or 6 pieces each.
Heat 4 tablespoons of oil in a large paella pan, electric skillet or two 12-inch skillets.
Add lobster pieces.
Saute 3 minutes.
Remove lobster and set aside.
Saute chicken until well browned on both sides, adding more oil if needed.
Remove chicken pieces and set aside.
Saute onions and garlic until tender, but not brown.
Add tomatoes and green or red peppers.
Cook until tender and most of the liquid has evaporated.
Add rice, broth and wine.
Stir in salt, thyme, oregano, coriander, saffron, paprika and bay leaf.
Mix well and bring to a boil.
Arrange chicken pieces in center and place lobster pieces and shrimp around edge of pan.
Add clams or mussels.
Cook until shells open.
Remove clams or mussels from water; set aside.
Remove casing from sausage; slice thinly.
Add clams or mussels and sausage slices to rice mixture.
Sprinkle with peas.
Cover.
Cook until liquid is absorbed, about 10 minutes.
Remove cover to allow excess moisture to evaporate, if needed.
Remove bay leaf.