»

Recipes

»

Thai

»

Pad Thai With Shrimps
Pad Thai with shrimps Recipe
A great variant of Pad Thai recipe.This one has Shrimps in it & is a perfect sea food recipe. Pad Thai with shrimps is my favorite for sure.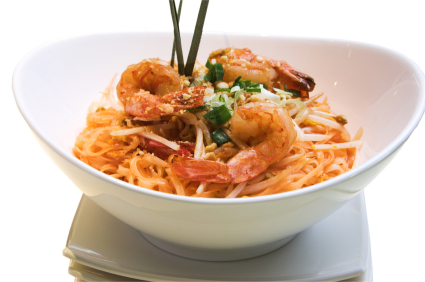 Ingredients
Rice noodles

8 Ounce

(1 packet)

Vegetable oil

1 Cup (16 tbs)

Eggs

3

, beaten

Fresh bean sprouts

2 Cup (32 tbs)

Fish sauce

1⁄2 Teaspoon

Parlsey/Cilantro

1 Tablespoon

Cooked shrimp

2 Cup (32 tbs)

Scallions

1 Bunch (100 gm)

, cut small

Garlic

1 Clove (5 gm)

, crushed or cut small
Nutrition Facts
Serving size
Calories 686 Calories from Fat 420
% Daily Value*
Total Fat 47 g72.8%
Saturated Fat 6.7 g33.7%
Trans Fat 0 g
Cholesterol 126.9 mg
Sodium 170.2 mg7.1%
Total Carbohydrates 42 g13.9%
Dietary Fiber 1.4 g5.5%
Sugars 1.1 g
Protein 22 g43.5%
Vitamin A 13.6% Vitamin C 21.4%
Calcium 5.3% Iron 9.2%
*Based on a 2000 Calorie diet
Directions
You will have to cook shrimps before you start preparing the noodles.
In boiling water add noodles & let them turn soft in the water for couple of mintues.Once they are done,take it out form the water & keep noodles aside.
In a wok heat vegetable oil,beat eggs & drop them in the pan to be cooked,cook eggs till they are firm,take out the eggs & cut them into thin small pieces.Keep that also aside.
In the wok,saute garlic,scallions & bean sprouts,add fish sauce & oyster sauce while you saute garlic.Now add drained noodles to this & mix it all well.Add the eggs to noodles & also the already cooked shrimps & mix all of it thoroughly.
Place these noodles in a serving bowl & garnish with parsley & shrimps.

Absolutely delicious picture of pad thai with shrimp. In my view this pad thai is one of the best dish from great Thai Cuisine. I like it very much. Thanks for sharing.
Posted on:
28 February 2008 - 3:28pm

I think part of the recipe is missing. Gkuay dtiow or rice noodles (also known as ban pho to the Vietnamese) are normally soaked for 20 minutes in warm water while you prepare the rest of the pad thai. Fish Sauce is a main-stay of this and most Thai dishes. Where is the lime or tamarind, chiles, date palm sugar, shallots, and dried shrimp which along with alot of garlic make the sauce for the pad thai dish. Plus the normal Pad Thai Garnish of chopped unsalted roasted peanuts is missing I think part of the recipe is missing. Shanti/Mary-Anne
Posted on:
18 January 2008 - 4:29pm