»

Recipes

»

Sauce

»

Ox Tongue With Raisin Sauce
Ox Tongue With Raisin Sauce Recipe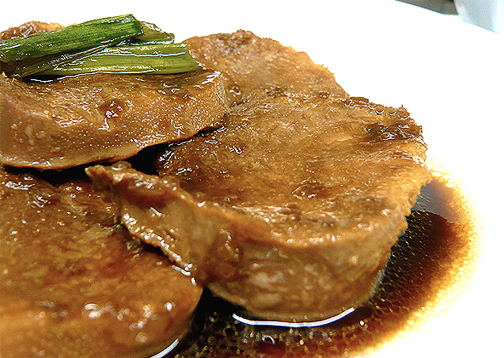 Ingredients
Ox tongue

4 Pound

(1 Pice)

Salt

1 Teaspoon

Carrot

1

, peeled and sliced

Onion

1

, sliced

Celery tops

1 Tablespoon

Parsley sprigs

1

Peppercorns

6

, crushed

Bay leaf

1

Clove

1
Nutrition Facts
Serving size: Complete recipe
Calories 4308 Calories from Fat 2548
% Daily Value*
Total Fat 283 g435.6%
Saturated Fat 118.3 g591.3%
Trans Fat 0 g
Cholesterol 0 mg
Sodium 2000.3 mg83.3%
Total Carbohydrates 25 g8.3%
Dietary Fiber 8.9 g35.6%
Sugars 9 g
Protein 407 g814.9%
Vitamin A 208.4% Vitamin C 27.5%
Calcium 7% Iron 5.8%
*Based on a 2000 Calorie diet
Directions
Soak the tongue for at least 3 hours in cold water.
Rinse under cold running water.
Combine the remaining ingredients in a large pot.
Add the tongue and cover with water, Bring to a boil, cover and simmer gently for at least 3 hours or until meat is tender.
Remove the skin from the tongue and cut the meat into slices 1/2 inch thick.
Keep warm.
Strain liquid and reserve 2 1/2 cups for the sauce.

I found this-looks like they forgot! BEEF TONGUE WITH RAISIN SAUCE 1 fresh Kosher Beef Tongue 3 sm. onions 2 sm. carrots 4 stalks celery & leaves 6 sprigs parsley 8 peppercorns Salt & pepper 1/2 c. almonds, blanched & split 2/3 c. seedless raisins 6 tbsp. cooking fat 3 tbsp. flour 1/4 c. crushed gingersnaps 1 lemon, cut into sm. cubes Place tongue in a large kettle with onions, carrots, celery and parsley. Add water to cover. Add peppercorns and salt. Simmer gently until tender, 3 to 5 hours. Drain. Reserve liquid. Melt fat and add flour and stir until blended. Gradually stir in reserved raisin and almond liquid and enough tongue liquid to make 3 cups in all. Add gingersnaps, almonds, raisins and lemon cubes. Season with salt and paprika. Pour over sliced tongue. Serve hot.
Posted on:
27 August 2010 - 8:57pm