»

Recipes

»

Egg

»

Oven-Style Scotch Eggs
Oven-Style Scotch Eggs Recipe
Oven-Style Scotch Eggs is delicious dish for breakfast made from pork egg bread. Specially great for kids chrismas holiday.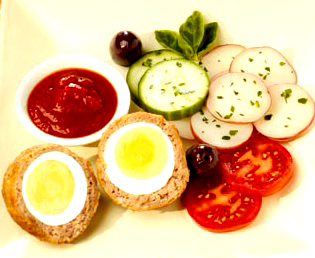 Ingredients
Bulk turkey/Pork or italian sausage

1 Pound

Plain hard boiled eggs/Pickled hard-cooked eggs**

8

Dry bread crumbs/Cornmeal

1⁄3 Cup (5.33 tbs)

Egg

1

(beaten)
Nutrition Facts
Serving size
Calories 386 Calories from Fat 198
% Daily Value*
Total Fat 22 g33.8%
Saturated Fat 6.5 g32.7%
Trans Fat 0 g
Cholesterol 617.9 mg
Sodium 266.5 mg11.1%
Total Carbohydrates 4 g1.5%
Dietary Fiber 0.19 g0.75%
Sugars 1.6 g
Protein 40 g79.3%
Vitamin A 14.7% Vitamin C
Calcium 8.8% Iron 18%
*Based on a 2000 Calorie diet
Directions
Divide sausage into 8 (2-ounce) portions. On lightly crumb-sprinkled surface, pat out each portion to about 1/8-inch thickness. Wrap completely around 1 of the hard-cooked eggs, pressing edges together to seal. Repeat with remaining sausage and hard-cooked eggs. Roll sausage-coated eggs in crumbs and dip in beaten egg. Place on baking sheet and bake in preheated 375°F oven until lightly browned, about 20 minutes.

** To pickle, drain 1 can (16 oz.) sliced beets, reserving juice. Set beets aside for another use. In medium saucepan, combine reserved beet juice, 1 3/4 cups white vinegar, 1 cup sugar, 1 1/2 tablespoons whole allspice and 1 stick cinnamon, halved. Bring to boiling, stirring until sugar is dissolved. Reduce heat and simmer 5 minutes. Arrange 8 hard-cooked eggs in 1-quart jar with tight-fitting lid. Pour hot mixture over eggs. Cover tightly.

Store in cool place OR cool at room temperature 1 hour. Refrigerate to blend flavors, at least several days or up to several weeks. After opening, refrigerate and use within 1 week.