»

Recipes

»

Chicken

»

Oven Fried Chicken
Oven Fried Chicken Recipe
If you're looking for an easy chicken recipe to cook, this Oven Fried Chicken is the one you should try. This isa real good chicken made in no time!
Golden Oven Fried Chicken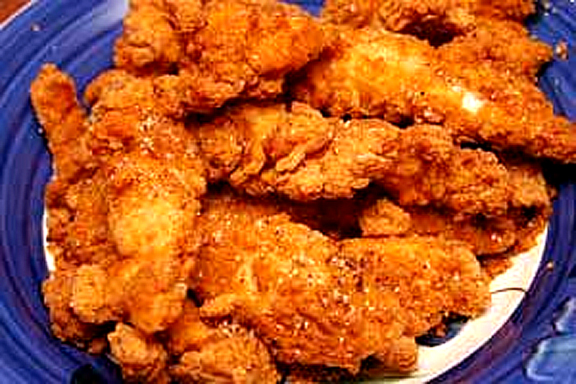 Ingredients
Butter/Margarine

1/4 Cup (16 tbs)

Flour

1/3 Cup (16 tbs)

1/3 cup yellow corn meal

Salt

1/2 Teaspoon

1 broiler-fryer chicken, cut in serving pieces

Evaporated milk

1/3 Cup (16 tbs)
Directions
Melt butter in 7 x 11 x 2-inch baking pan in moderate oven (375°F.).
Combine flour, corn meal and salt in shallow dish.
Dip chicken pieces in evaporated milk, then roll immediately in flour mixture.
Place chicken, skin side down, in butter.
Bake 30 minutes.
Turn skin side up; bake 30 minutes longer, or until tender.