»

Recipes

»

Gravy

»

Oven Pot Roast And Gravy
Oven Pot Roast And Gravy Recipe
Oven Pot Roast And Gravy is an amazingly delicous side dish. Try this Oven Pot Roast And Gravy recipe; I bet you will have a huge fan following for this one.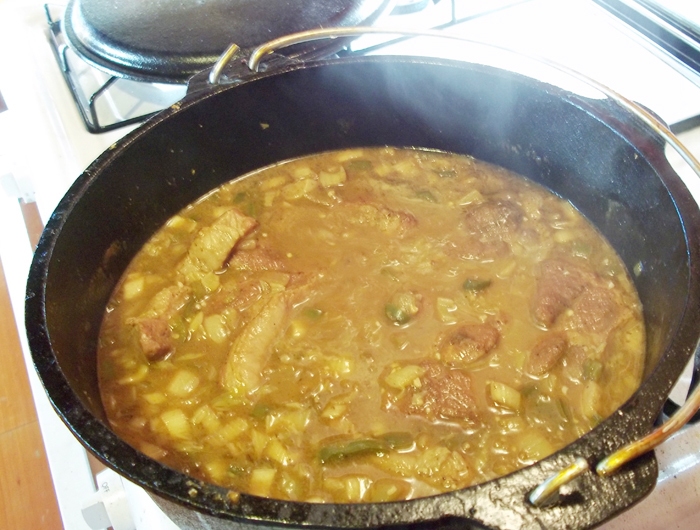 Ingredients
Pot roast

5 Pound

Dry onion soup mix

1 Tablespoon

(1 Package)

Mushroom

1 Can (10 oz)

Black pepper

1⁄4 Teaspoon
Nutrition Facts
Serving size: Complete recipe
Calories 5644 Calories from Fat 3687
% Daily Value*
Total Fat 409 g628.9%
Saturated Fat 164.7 g823.4%
Trans Fat 0 g
Cholesterol 1496.7 mg
Sodium 2625.7 mg109.4%
Total Carbohydrates 20 g6.6%
Dietary Fiber 4.2 g16.6%
Sugars 5.4 g
Protein 446 g892.5%
Vitamin A 0.1% Vitamin C 11.2%
Calcium 42.1% Iron 221.3%
*Based on a 2000 Calorie diet
Directions
Place roast in large heavy aluminum foil in baking pan.
Shake package of onion soup mix on top of pot roast.
Cover roast with mushroom soup.
Close foil so steam does not escape, leaving an air pocket above meat.
Cook at 350 degrees about 45 minutes per pound.
Image Courtesy :
http://commons.wikimedia.org/wiki/File:Smothered_pork_roast_and_gravy_in_black_pot_HRoe_2012.jpg